Have you ever considered an alternative to Outlook? Microsoft messaging remains popular, and for good reason! Integrated by default in most computers, it is therefore naturally adopted by users.
However, Outlook has some limitations, such as complex password recovery process or insufficient task management functions, especially for professionals.
If you're ready to try a different email, we've got 10 Outlook alternatives for you!
Why choose an alternative to Outlook?
Outlook quickly established itself as a leader, in particular through its integration into Windows, but let's not forget that today, to take advantage of Outlook and other software from the Office suite, you have to pay a subscription. Its premium features prove expensive with reduced performance on other operating systems like Mac and Linux. Finally, its web application offers full functionality only on Internet Explorer…
There are free and open source alternatives to Outlook, so why deprive yourself?
1. Thunderbird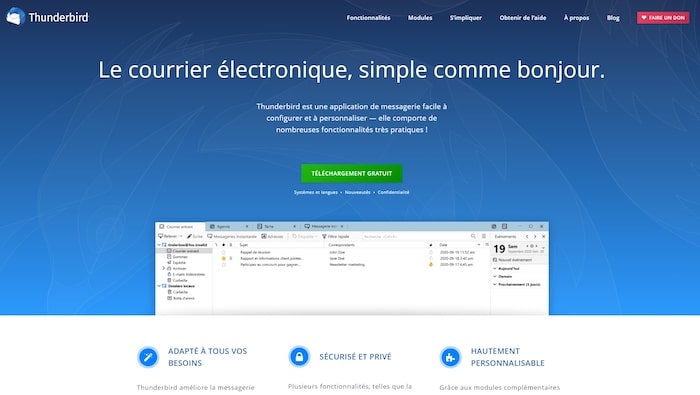 Thunderbird remains the most popular Outlook alternative. Messaging from Mozilla Firefox, it contains all the essential features for managing your emails with, in addition, customization options that set it apart from the competition.
You can install add-on plugins and themes to get additional settings, some of which improve your email privacy and security.
In terms of features, Thunderbird:
Supports POP and IMAP protocols for receiving emails as well as SSL/TLS encryption of your data.
Allows synchronization of emails between devices using IMAP IDLE.
Offers various options to better organize your email such as creating storage folders for your emails.
Allows the administration of RSS feeds.
Offers strong protection against phishing.
Opens the configuration of predefined replies to speed up the process of replying to your emails.
Includes an instant messaging tool.
Price :
Thunderbird is a free open-source service offered by Mozilla. If you are looking for a free alternative to Outlook, this is a great option to consider.
2. Mailbird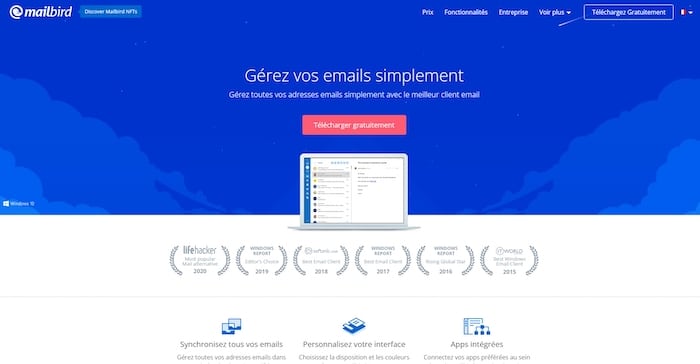 If you are used to using Outlook, Mailbird should suit you! Indeed, its interface is very similar to Microsoft's tool. On the other hand, in terms of functionality, we are closer to Gmail. Result: Mailbird offers an email with a simple and fluid design, which facilitates the user experience.
This alternative to Outlook is compatible with Windows, Mac and Linux operating systems. It is available in 2 formulas: Personal and Business. The Business version comes with free themes to customize your interface.
The main features of Mailbird are:
Support for IMAP and POP 3 accounts.
Integrated address book, calendar and file sharing functions.
Integration with apps like Slack, Dropbox, Google Docs, Google Calendar for easy task and attachment management.
Integration with Facebook, Twitter and WhatsApp messengers.
Sync with LinkedIn to search and save contacts.
Attachment search function.
Integration of your different email accounts in a single interface.
Price :
Mailbird is available for free, in a limited version. For professional needs, it is better to opt for the Personal formula at €2.42 per month or the Business offer at €3.75 per month.
3. eM Client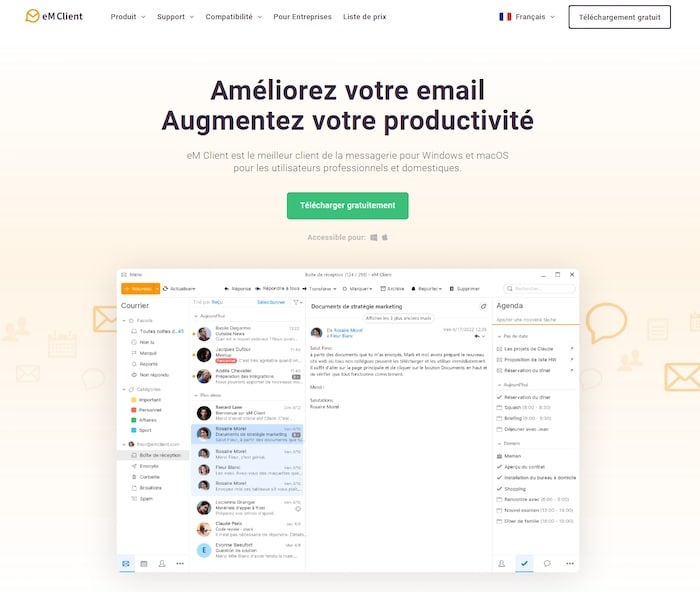 If you are thinking of a similar alternative to Outlook in terms of aesthetics or functionality, eM Client is among the best options. With its sleek design, the tool is easy to use, even for beginners.
Its key options are:
Synchronization with Outlook to keep emails, contacts and calendars up to date.
Support for multiple signatures.
Automatic import of contacts from Gmail or Exchange servers.
Data encryption with SSL/TLS or SFTP protocol.
Storing data on your computer (for complete control of your information).
Possible integration with Google Calendar, as well as Facebook and Twitter messengers.
Spam filters.
Instant email translation.
Functions for automating actions based on criteria such as sender, recipient, keywords, etc. to facilitate the processing and archiving of emails.
Price :
eM Client has a free option limited to 2 accounts. For more features, you can upgrade to the Pro plan at €49.95 per year. If you are a company, the Business option is offered at €188.95
4. Spike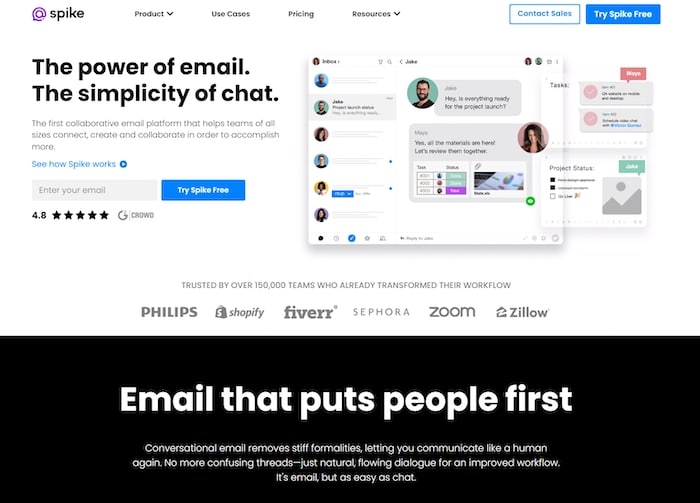 Even though the alternatives to Outlook mentioned so far have instant messaging capabilities, Spike is a cut above.
The tool is designed to look like a chat platform. A simple interface only displays the sender and subject of each email. Messages you receive are converted into chat bubbles and grouped into single conversations.
The service has several features:
Ability to send emails via SMS.
Programming of personalized and automatic responses.
Follow-up of emails and acknowledgments of receipt.
Automatic resizing of images.
Organization of contacts into groups and the ability to send messages to a group of recipients at once.
Mentions @
Audio and video calls to facilitate meetings.
Price :
Spike offers a personal and free version. This formula is sufficient for individuals and freelancers. For companies in need of collaborative features and significant storage space, the messaging tool offers a Solo plan at $12 per month and a Business plan at $8 per month.
5. Google Workspace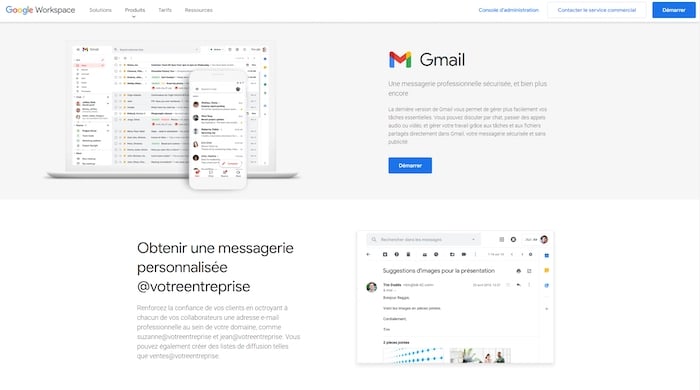 You most certainly know Gmail, the messaging tool made in Google. To go further and offer a tool worthy of professional use, the search engine offers Google Workspace. This suite consists of different office applications and a more advanced version of Gmail.
For starters, exit the ads in messaging! Your inbox is stripped of distractions to maximize your productivity. But this is not the only asset of Google Workspace. This alternative to Outlook allows you to:
Synchronize Gmail with Google tools (Docs, Slides, Agenda, Forms, Sheet…) but also with Google Drive.
Connect third-party apps like Slack or Zoom.
Manage several email addresses in the same interface.
Personalize your email addresses with your company name.
Create groups and collaborative spaces to facilitate joint project management.
Store up to 30 GB of file.
Manage access levels for each email.
Another strong point of Gmail pro version: a guaranteed uptime of 99.9%, without any downtime for maintenance operations!
Price :
Google Workspace is available from €4.68 per month per user.
6. ProtonMail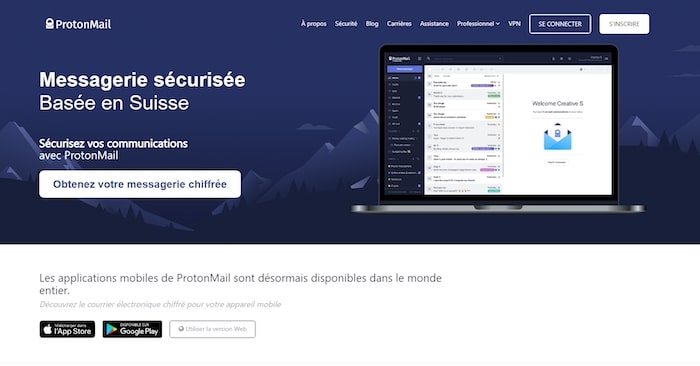 Designed in Switzerland, ProtonMail is aimed at users seeking anonymity and data protection. Praised on the dark web and by companies exchanging sensitive data, this messaging tool completely encrypts your emails.
Here's what you need to know about this highly secure alternative to Outlook:
ProtonMail also uses PGP (Pretty Good Privacy), an encryption method that guarantees confidentiality and data authentication.
The tool is combined for free with other services like ProtonVPN to guarantee anonymity, but also to encrypt your Internet connection when you use public WiFi hotspots.
Messaging requires users to create 2 passwords to authenticate their connection and decrypt their messages. This greatly enhances the security of your email.
ProtonMail has equally secure apps for Android and iOS.
You will be able to choose an option of auto-destruction of your emails when they are read by the recipients.
Price :
ProtonMail offers a free version limited to one email address, 150 messages per day and 500 MB of storage space. For more storage and addresses, you can choose between the Plus plan at €5 per month, Professional at €8 per month and Visionary at €30 per month.
7. Zimbra
Zimbra stands out for its ease of use on all platforms! Open source software, this alternative to Outlook can be installed on Windows, MacOs or Linux. You can even use it on an Android smartphone.
As an open-source messenger, Zimbra gives users full control over their data and lets them communicate easily without compromising network security or performance. It comes with features like:
The email program at a later date.
Instant messaging.
An antispam and antivirus tool.
IMAP/POP, CalDAV and CarDAV support.
Multiple account options.
Management of end-user features, quotas, and storage policies through class of service.
The creation of to-do list with due dates, priorities, etc.
Price :
Zimbra Desktop is available for free download.
8. Mailspring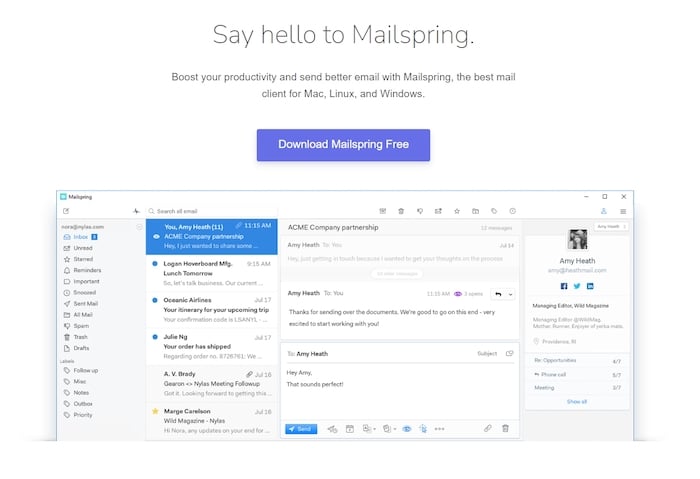 Mailspring offers a clean and simplistic interface, very similar to Outlook. Messaging has many useful features to organize your inbox and improve the daily management of your emails:
Added multiple accounts from Gmail, iCloud, Office 365, Outlook, Yahoo, and IMAP/SMTP.
Function to search emails by contact name, email address, subject line, message content or label.
A large selection of options and themes to customize the interface according to your needs.
The ability to configure receipt and read receipts for your emails.
A library of pre-made and customizable email templates for quick replies.
Advanced email tracking to help you determine which subject lines and templates are getting the most clicks.
Price :
Mailspring offers a completely free alternative to Outlook. But to benefit from professional functions, you must opt ​​for a Pro version at $8 per month.
9. Postbox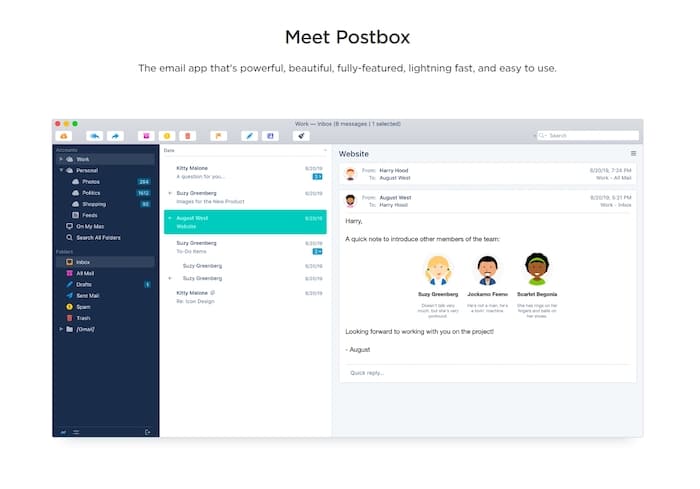 Postbox works on both Windows and Mac. The messaging tool has a simple, customizable interface with plugins from its built-in app store.
The main features of Postbox are:
Support for multiple email accounts from Gmail, Outlook 365 or Office 365, ProtonMail, Yahoo, Fastmail, IMAP accounts, etc.
Secure connections via SSL/TLS and STARTTLS.
Writing help functions to write faster.
An integrated HTML editor.
Online assistance and technical support.
Advanced email filing and management options with labels, groups, favorites, and more.
Price :
Postbox is available in a free, but time-limited version. Alternatively, you can get a lifetime license for $29 per user!
10. Seamonkey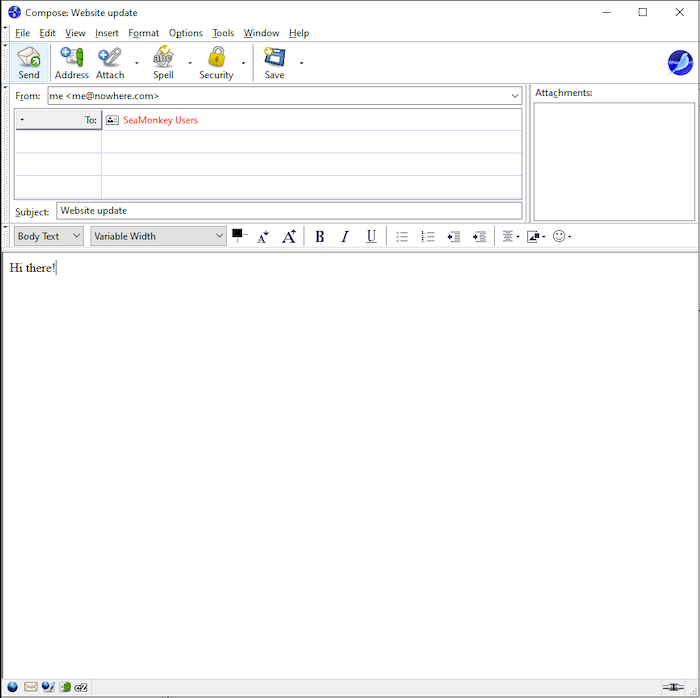 More than just messaging, Seamonkey is a software package that also comes with a browser and an HTML editor. A real Swiss army knife for your internal communication!
Available for Windows, Linux and Mac users, this alternative to Outlook offers many features:
An IRC chat to exchange with your collaborators.
An RSS feed reader for your monitoring.
Add-ons to optimize and customize the tool.
The configuration of acknowledgments.
Personalization of spam filters.
An integrated calendar to manage daily meetings and tasks.
Price :
Seamonkey is non-commercial open-source software. It therefore remains completely free, just like Thunderbird!
Our tip for finding the Outlook alternative that suits you
Managing your emails well means guaranteeing the productivity of your teams, but also communication with your customers.
If you need a more flexible and customizable solution, you'll find what you're looking for in this list of Outlook alternatives!