Adware is malicious software that makes money for its creators through fraudulent clicks. Fortunately, it is among the easiest adware to detect.
Has your web browser become slow overnight? Do you constantly receive pop-ups prompting you to enter personal data, allow notifications or install software updates? Are you automatically redirected to shady sites when you click on a link? If the answer is yes, your computer might be infected with adware or adware.
Certainly, adware is considered to be one of the least intrusive types of malware. However, be aware that it does not only display pop-up advertisements. In fact, adware is a way for shady companies (or cyber criminals) to secretly collect your personal data and monitor your online behaviors . All this, so that they can target you with malicious advertisements. In fact, whether you use a computer, smartphone, or tablet, adware can still infect them.
In this article, we'll give you a more in-depth definition of adware, the symptoms, and some tips on how to get rid of it.
What is adware?
Adware History
How do you know if your device is infected with adware?
What is the risk of adware?
What are the different categories of adware?
Some examples of adware
How can you protect yourself against adware?
What is adware?
Adware is a category of software applications that display advertisements on computers or alter search results in browsers. In fact, these have been around for decades and have mutated over time.
Some adware is purely malicious and does not ask for user consent. Others, on the other hand, notify you of their installation through confusing user agreements or installation options enabled by default.
In other words, adware is the common term for advertising media software. In this context, it monitors your online activities to deliver targeted advertisements .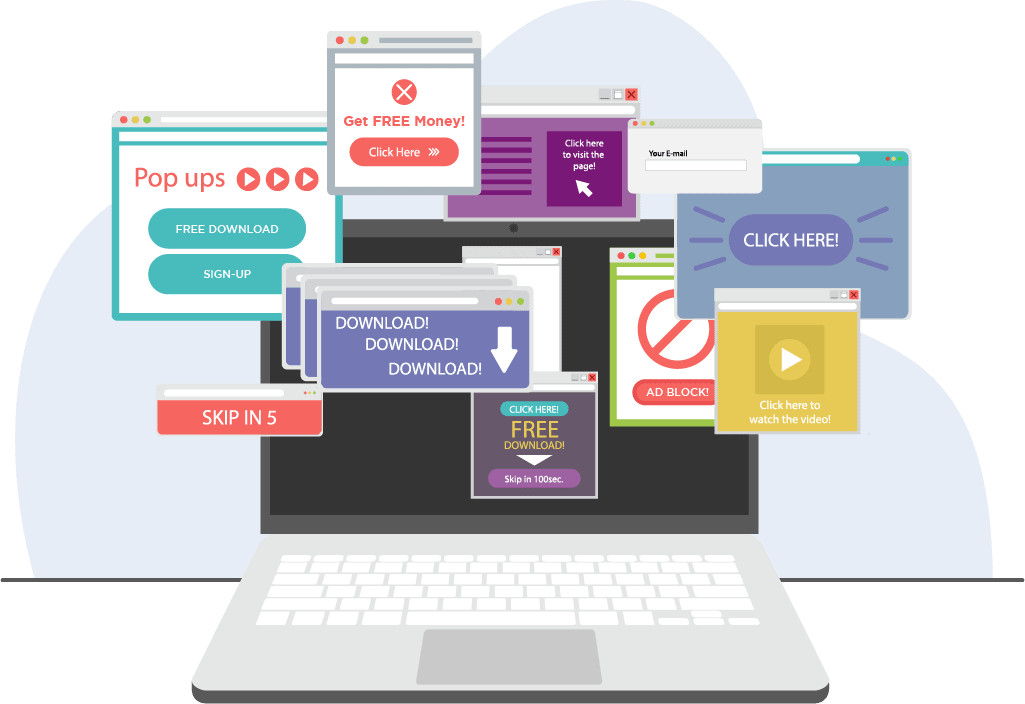 Adware History
Since around 1995, industry experts considered early adware to be part of the broader category of spyware. Very soon, security specialists started to differentiate adware from spyware as less dangerous PUPs. They were even considered "legitimate". In fact, it was the legal companies, with offices and salaries, that created the adware, at least in theory.
But often affiliates of these legitimate companies spread their adware without verifying their legitimacy. Unchecked, they proliferated through every means at their disposal : peer-to-peer sites, botnets, instant messaging infections, and the aforementioned browser hijackers.
After a while, adware publishers began shutting down affiliate sites that made mistakes and denying responsibility for their affiliates' actions. This was a common activity pattern during adware's peak years, which flourished between around 2005 and 2008. Subsequently, the competent authorities began to impose heavy fines for these violations.
Today, although adware persists, it is generally considered a form of PUP. It has a lower threat level than the malware category. Nonetheless, they remain popular and still feature prominently in our analysis of top consumer detections. In the second half of 2018, adware took second place behind banking Trojans as the number one detection for consumers.  
How do you know if your device is infected with adware?
Adware slows down your device
As you might expect, adware can have a significant effect on your device's performance. In this context, your usual browser may slow down. In fact, adware (and all the pop-ups it creates) consumes your data and bandwidth, thus affecting your working abilities.
Your device shows a bunch of advertisements and automatically installs malware
Every time you log in, pop-ups and other unwanted ads can bombard you. And while most ads are just annoying, others may contain shady software or links to malicious websites. Your computer may also install malware without your permission. Apart from that, adware programs can change browser homepage and default search engine. They also trigger persistent pop-ups in the browser.
In sum, your personal choices and interests are sent to these shady advertisers for marketing purposes through this adware. Therefore, you will find that the ads displayed are personalized to you.
What is the risk of adware?
It should be noted that adware is not as dangerous as computer Trojans, rootkits and other forms of malware. However, they negatively impact the user experience and slow down browsers. Moreover, it is a way to finance other malicious campaigns for cyber criminals. Because of this, they can ultimately serve as a backdoor to computers through which other threats can be transmitted or data can be stolen.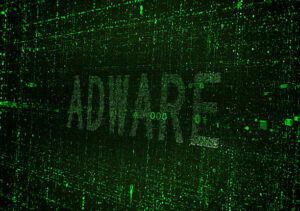 What are the different categories of adware?
Adware or adware is classified under different categories: legitimate adware, potentially unwanted application and browser hijackers.
In fact, different operating systems require different programming, which is why each type of adware affects users' systems differently. This means that some types of adware are device-specific, while others work universally on all types of devices or operating systems.
Legit adware
The latter requires that you consent to advertisements or software promotions. You might get a free demo or some other perk for opting in. In fact, it's the legal and ethical way to advertise.
Potentially Unwanted Application
Potentially unwanted applications refer to anything that pops up on your computer without asking for your approval. However, sometimes these are totally illegal, malicious or abusive.
browser hijacker
Browser hijackers are types of adware that often affect your default browser, changing your homepage and search settings without your knowledge.
Some examples of adware
Here are five concrete examples of adware that pose threats to users around the world:
FakeAdsBlock
This is a piece of malware that pretends to be an ad blocker application. However, the latter instead displays large volumes of advertisements for Android device users.
DeskAd
This type of adware is malicious malware marketed as software that delivers targeted advertisements. At first, the adware was relatively harmless. But over time, DeskAd morphed into something far more sinister. Indeed, the latter adds buttons, toolbars and links to your browser . Moreover, it redirects you to malicious website when you click on any link.
Fireball
Fireball is Chinese adware that has infected over 250 million Windows and MacOS computers worldwide . In fact, the latter turns your browser into a zombie by generating lots of advertisements. Moreover, it gives cyber criminals the ability to execute any malicious code on the infected devices.
This adware is widely spread by bundling with other software . This means that when users download any software or application, they also get Fireball unknowingly.
HiddenAds
This is a family of adware-deploying trojans that hide inside other applications. Most of the times, this type of adware comes along with gaming applications.
In October 2020, security company Avast discovered hundreds of apps containing HiddenAds on Google Play. Moreover, this latest announcement that more than seven million users downloaded these apps before they were removed from the platform.
How can you protect yourself against adware?
Here are some things you can do regularly to protect your device from the influx of adware:
Use anti-virus and anti-malware tools
By installing reliable anti-virus or anti-malware tools and keeping them up-to-date, you can add a layer of protection to your device (and your network as a whole). In fact, these tools help you avoid installing adware on your device (for example, when you mistakenly click on an infected website link). Additionally, they can scan your computer and if found, you can also use them to quarantine or remove the adware.
Read before accepting
Many people agree to all the terms of an application or software without even reading them when installing it. The latter do not even realize the permissions they give to the application and then blame it for spying on it.
Be aware that the manufacturers do not allow you to install the apps unless you agree to all the terms and grant them all the permissions. Therefore, you should always carefully weigh the benefits of an app against its permission requirements before granting or agreeing to its terms and conditions.
Download only from trusted sources
If you want to keep your device free from adware infection, you better download apps and other files only from the trusted platforms or sources. This includes official developer and manufacturer websites, official app stores (such as Google Play and Apple App Store), etc. In fact, peer-to-peer file sharing platforms and sites are known to host adware infected files.
Avoid "freeware" and "shareware"
Freeware or shareware are often a source of adware, as well as pop-up ads and notices. Therefore, one should refrain from downloading or even clicking on it. That said, beware of free apps that are copies of commercial apps that you have to pay for. In fact, there are high chances that free apps harbor malware and your system will be at risk by downloading them.
Use an ad blocker
As the name suggests, the latter can prevent advertisements from showing up on your browser. In fact, it will limit your chances of accidentally clicking on it and infecting your computer.