The Binance exchange has just revealed that it will use an innovative system for the identity verification of its users (KYC). A system that uses soulbounds tokens, a sort of derivative of NFTs without their transferability character. Let's see together how Binance is going to put this in place and especially why the platform does it. We will also be looking to dig deeper into potential use cases for these new digital tokens.
Soulbounds tokens at the heart of Binance KYC!
It was through a blog post that the Binance platform announced the news of the issuance of its first soulbound tokens (SBT) . Tokens that will be issued via the BNB Chain and delivered to each user of the mobile application who has validated his KYC (Know Your Customer). The token each verified user will receive will be a BAB token for Binance Account Bound.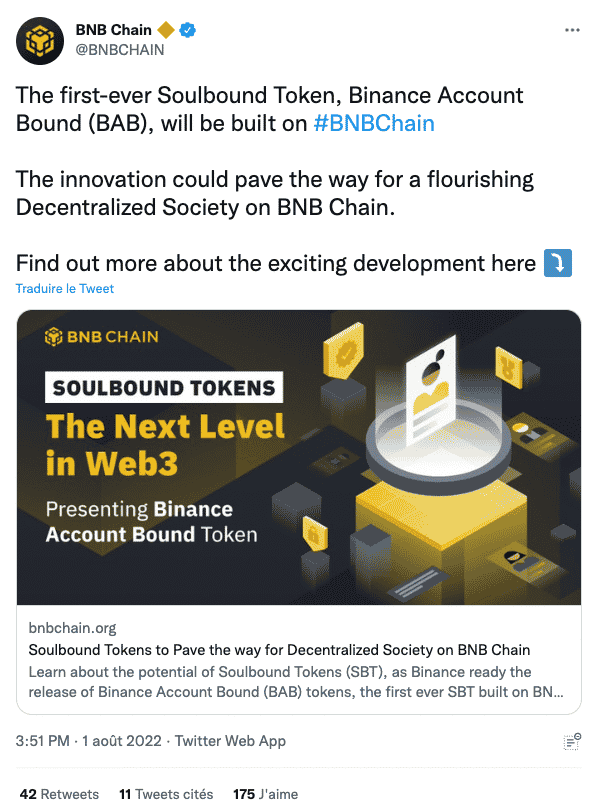 Good to know: Soulbounds tokens are tokens that are governed by the same principles as NFTs, with the exception that they are not transferable, since they are linked to a unique address. Created on the Ethereum blockchain, these tokens seek above all to promote decentralization. For Vitalik Buterin, at the initiative of these new tokens, these could represent the future of web 3.
Binance Account Bound (BAB) tokens will be displayed on users' wallets to highlight that they have passed KYC. In a way, this token will certify the user's verification of the platform. If initially this option is only open to users of the mobile application, Binance would like to eventually democratize the use of these tokens to all users. In the world of crypto exchanges, Binance is the first player to use these new tokens, created in 2022.
Save time on KYC!
As we have seen soulbounds tokens make it possible to operate an ecosystem with a very strong decentralization. In its blog post , Binance calls for the opening of a fully decentralized company on the BNB Chain. For users of DeFi protocols, this announcement sounds like a sweet melody. Indeed, many users criticize the time-consuming aspect of KYC.
Thanks to this SBT, there is no longer any need to validate dozens and dozens of different KYCs. In other words, the Binance SBT can be, in a way, likened to an identity card. An identity card that eliminates new KYCs for applications that will recognize the BAB token.
The soulbound token: a technology of the future?
Binance's use of SBTs is ultimately just a concrete use case. But in the future, SBTs may take new paths. Some are already rising to highlight the interest that these tokens could represent on governance mechanisms. Indeed, transferability is probably the major problem when discussing the distribution of governance power . Thanks to soulbounds tokens, it is no longer possible to concentrate interests and powers.
For the authentication of NFT works, soulbounds tokens can also be unstoppable verification elements. By proving that one or more NFTs have been designated by the artist in question. SBTs can also be an effective tool for redesigning token distributions via airdrops .
As web 3 develops, other outlets may appear for SBTs. Some hold especially that the soulbounds tokens are devoid of economic interests , precisely because they are not transferable. Perhaps this is a new way of understanding digital assets: by freeing themselves from their purely speculative aspect.