Today, it is possible to create a chatbot without writing a line of code . But if you think that the ideal bot is obtained the first time, you are wrong!
One of the keys to the success of a chatbot is precisely its optimization over the long term, so that it is increasingly efficient and responds better and better to the needs of your customers.
There are a number of indicators to follow closely to improve the performance of your conversational agent. This is why specific tools, dedicated to measuring the performance of chatbots, have appeared on the market.
To do this, we offer 4 analytical tools to measure the performance of your chatbot, as well as 7 indicators to monitor.
1. Botanalytics – comprehensive and accessible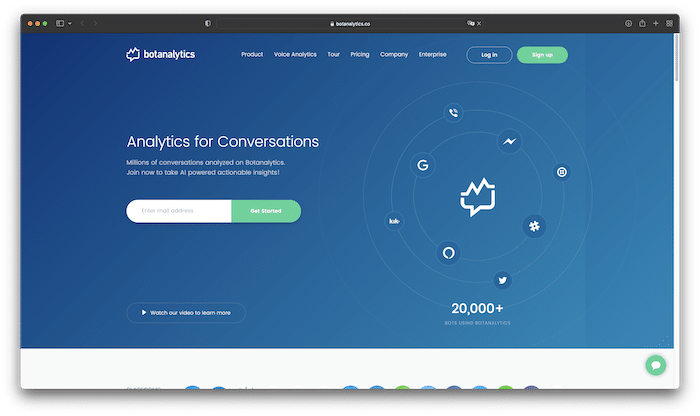 Botanalytics allows you to instantly have an overview of the latest conversations with your chatbot, and in particular their duration and the number of sessions per user.
Ideal for identifying the most active and engaged users, across a wide range of media.
What's more, Botanalytics offers a transcript of each conversation, allowing you to examine precisely the interactions between the bot and the users.
Compatible with: Messenger, Slack, Kik, Google Assistant, Skype, WeChat, Viber, Amazon Alexa…

2. Dashbot – in-depth analytics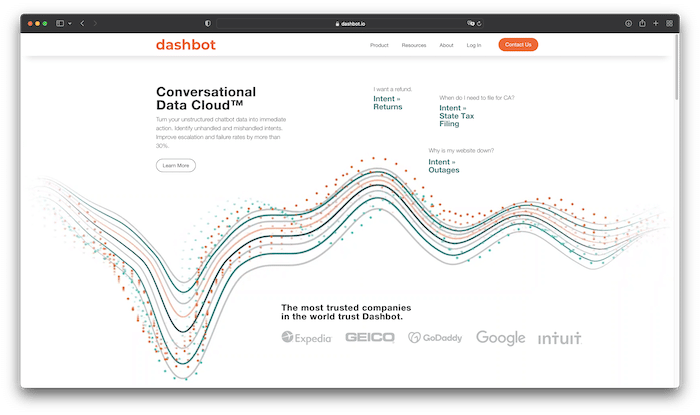 This analytics tool for chatbot is one of the most famous, and rightly so: Dashbot does not just measure the number of conversations per user or even their retention time.
On the contrary, it goes further than that by allowing an in-depth analysis of the conversations, thanks to some unique indicators, like the "Sentiment", which estimates the attitude of the public towards your bot .
Let's also mention the "Message Funnel" report, which allows you to have an overview of the "typical conversation" that users have with your virtual assistant, and to detect errors made by the latter to correct them.
Compatible with : Messenger, Slack, Kik, Google Assistant, Amazon Alexa

3. Botmetrics – flexible and open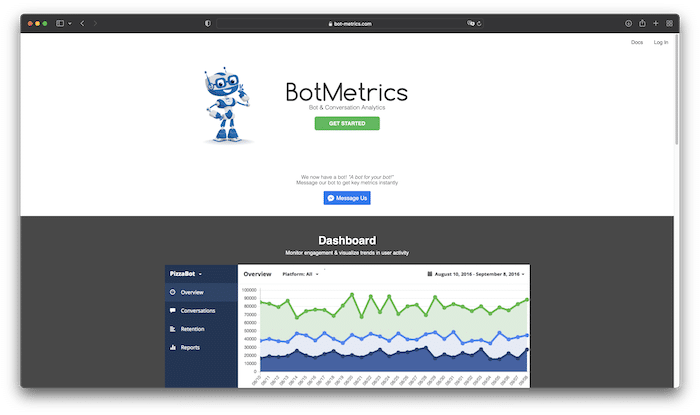 Simple and flexible, Botmetrics is an open source and modular analytics tool for chatbots.
You can modify its dynamic dashboard to your liking, as well as customize your reports to focus on the data that interests you most .
In short, Botmetrics allows you to have full control over your chatbot's key metrics and provides a highly personalized experience.
Compatible with: Messenger, Slack, Kik, Google Assistant, Microsoft Bot…

4. Botfuel – solid and rich in possibilities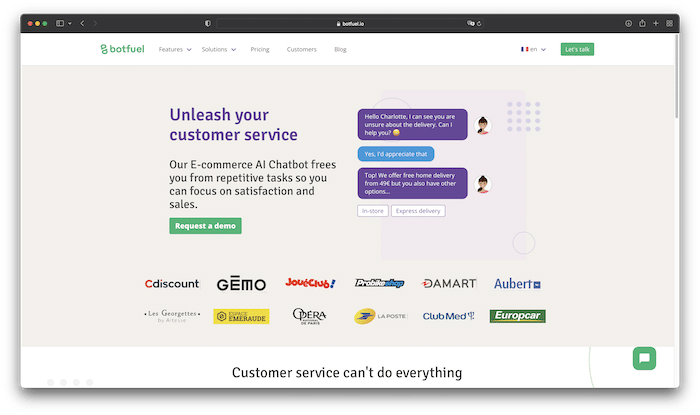 Botfuel has a clear operation: understand how users interact with your bot, measure its return on investment, and finally improve it by correcting the errors identified.
Everything you expect from a good analytics tool for chatbots, in short.
Although it has an accessible dashboard, Botfuel can fetch very advanced data for the most advanced users: it notably offers very specific segmentation possibilities , in order to focus on the users who matter the most.
Compatible with: Messenger, Microsoft Bot
With these 4 analytics tools, measuring your chatbot's key performance indicators becomes child's play.

What are the indicators to monitor on your chatbot?
1. The total number of users
The number of people who have used your chatbot is first and foremost an index of its popularity, but it is above all the basis of all the other indicators.
Indeed, for your statistics to be reliable, you must ensure that they are based on a sufficiently large population; otherwise, any lessons you learn from it could be completely skewed.

2. The average duration of conversations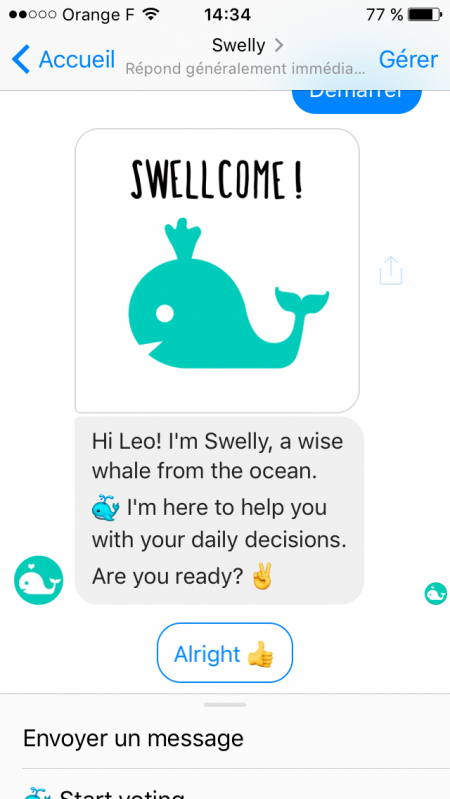 The average duration of conversations is a useful indicator, but it must be put into perspective according to your activity, as well as the functionalities and objectives of your chatbot.
Short sessions do not necessarily indicate a problem that causes users to leave the bot: if the latter is intended to quickly respond to customer questions or complaints, this is even completely normal.
Conversely, a chatbot with a more tedious role (placing orders, telling stories…) should have a higher average conversation duration.



3. The number of interactions per user
In general, the more a user exchanges and interacts with a chatbot, the more we can consider that the latter is performing.
However, this once again needs to be nuanced based on the specifics of your bot.
Taking the example of a chatbot whose objective is to sell products, numerous interactions are synonymous with genuine interest on the part of the user.
On the other hand, in the case of a customer support bot, many interactions may imply that the user cannot find the information they are looking for.

4. Retention period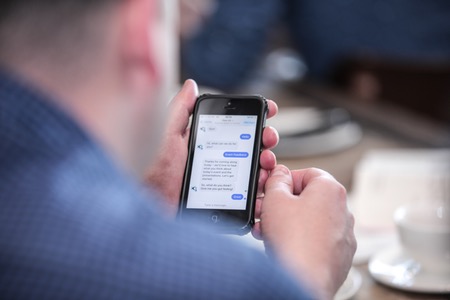 In some cases, a person may use a chatbot on a regular basis for a period of time and then suddenly drop it overnight.
By observing the retention time of users, one can identify trends that allow for optimizations to be made to the bot and to use it intelligently .
Let's imagine that you find that a high proportion of users stop using your chatbot after 15 days. You will then be able to optimize the bot so that it acts at the right time to prevent these abandonments.
Taking the example of a job search chatbot, we can for example ensure that the best offers are only offered from ten days, in order torekindle user's interest and prevent abandonment.

5. Misunderstood requests
While it is essential that your chatbot is well understood by users, the reverse is also true.
There are a multitude of ways to ask one and the same question, and this is without counting possible abbreviations or spelling mistakes that users could make.
Faced with unusually worded requests or surprising questions, your bot will not know how to react and will probably give a default answer of the type "I did not understand".
It is important to account for and analyze these situations so that eventually your bot can cope with any demand.

6. The number of conversations per user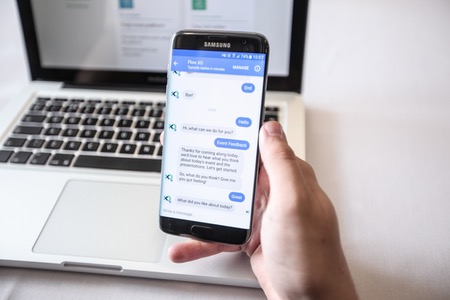 Of course you want people to use your chatbot, but what's the point if they only use it once and never come back ?
If the number of conversations per user is particularly low, then this suggests that there is a problem that is annoying enough to make many people want to reuse your bot.

7. Response time
It may seem obvious, but everyone expects a chatbot to answer questions (almost) instantly .
So make sure yours is responsive, or its chances of success may plummet.