Do you want to create a Facebook shop? In this article, we explain how to proceed step by step to build your storefront on the social network and sell on Facebook .
Facebook is the leading social network today, with 2.9 billion users worldwide. In France, according to the Digital 2022 report by We Are Social and Hootsuite, more than 7 out of 10 Internet users (73.2%) say they use Facebook and spend an average of 13 hours there per month.
This time spent is notably devoted to discovering new products and new brands. According to a YouGov study on "social shopping", more than a quarter of UK and france people (26%) have already made a purchase on a social network. And, among those who buy on social networks, 73% indicate that they have bought on Facebook.
As a result, more and more brands are deciding to have a shop on Facebook. What if you got into it yourself? Follow the guide to create an attractive Facebook shop and boost your sales!
Summary
Why create a Facebook shop?
How to create a Facebook shop?
5 Examples of Facebook Shops
How to promote products from your Facebook shop?
Why create a Facebook shop?
Having a Facebook Shop offers many advantages, whether you are currently selling online , selling physically or both! Indeed, creating a shop on Facebook allows you to:
Have a new promotion channel : a Facebook shop is an additional means of promotion as part of your marketing strategy , helping to increase your visibility. And what's more, it's free! There are no fees or commissions charged by Facebook.
Reach new customers : with a Facebook store, you could reach new people who are into shopping on the social network. They could discover your brand through this and convert into customers.
Stay on top : Most brands today have a Facebook store. Social network users expect to find the "Shop" button on brand pages. It is important to meet this expectation and to position itself as a modern brand, at the forefront of new purchasing trends.
How to create a Facebook shop?
So how do you create a store on Facebook? Let's discover the steps to follow and how to optimize the efficiency of your store.
Confirm eligibility
Set up your Facebook Shop in Selling Manager
Create your product catalog
Organize your collections
Customize your Facebook store
Publish your store
Animate your shop
1. Confirm eligibility
Before you get started and create a Facebook store, it is important to understand the rules and operation of the social network.
First of all, you can only sell physical products on Facebook. It is not possible to sell digital products .
Next, Facebook's commercial eligibility criteria specify: "Your Facebook Page must contain advertisements for products available for purchase directly from your website or through the payment function on Facebook. ".
Except that the payment function is only available in the United States as of now. French companies cannot accept payments on Facebook directly. They must therefore have an e-commerce site to accept payments from customers who have discovered their products on their Facebook store.
Do you do physical sales and don't yet have an e-commerce site? You can very easily create one with Shopify, and start selling your products in a few clicks. You don't need any technical or graphic skills to create an e-commerce site with Shopify. Getting started is easy, allowing you to customize your site to your image. In addition, you will be able to synchronize your activity in point of sale and online.
And having a Shopify online store is a real plus when creating a Facebook store. We will come back to the possibility of synchronizing your product catalog a little later, which can save you precious time.
Finally, Facebook asks you to "be trustworthy" to approve your Facebook Shop request. For the social network, this requires "an authentic and established presence" or "maintaining a sufficient subscriber base". So, before considering creating a store on Facebook, you must work on your presence on the social network and start building a community.
The key points
Facebook Shops are for the sale of physical products only.
It is imperative to have an e-commerce site to accept payments.
If you don't have an e-commerce site yet, it's quick and easy to open your online store with Shopify.
2. Set up your Facebook store in Selling Manager
Do you qualify to create a Facebook Shop? You can start configuring it. To do this, go to the Facebook Sales Manager in the Create your store section and follow the step-by-step configuration process.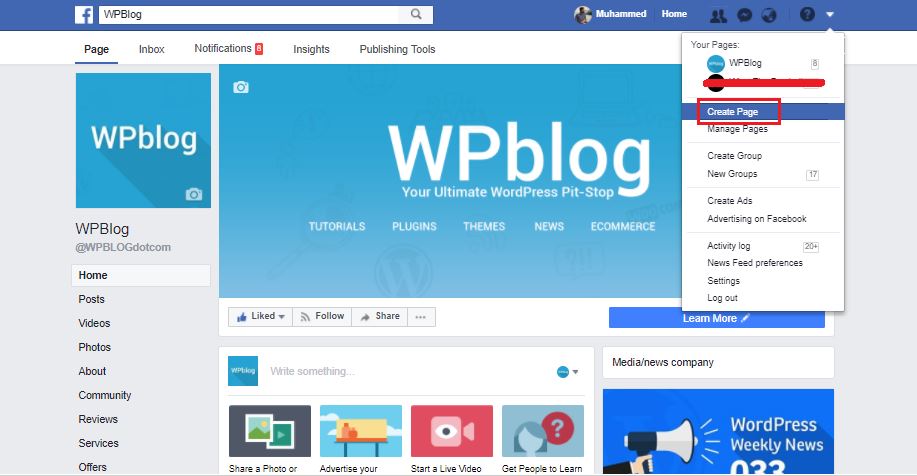 Select "Facebook" then click "Next" to be guided through the setup. You will first be asked to choose the payment method. Select "Payment on another website" to have customers from your Facebook shop redirected to your e-commerce site to complete the transaction.
You will notice that Facebook offers you 2 other options at this time, but they do not allow you to accept payments:
The "Payment with Facebook" option is only available for customers based in the United States as mentioned above.
The "Pay by email" option will not create a payment method for your store. If you select this option, buyers can send you a Facebook Messenger or WhatsApp message to checkout, but you'll then need to direct them to a payment solution.
Next step to configure your Facebook shop: choose the sales channels. This is the Facebook business page you want to associate your store with. If you're an admin of a Page, it will show by default. If you don't have a business page yet, you need to create a Facebook business page (or in other words, create a Facebook pro account).
Last step: add your delivery destinations. These are the countries to which you deliver your products.
After this last step, you will have access to a summary of your Facebook shop settings. To validate, click on "Finish the configuration".
The key points
Configure your Facebook Shop settings in Selling Manager.
Fill in the payment method, the page to associate your shop with and the countries in which you deliver.
3. Create your product catalog to create a Facebook shop
Once your store is set up, it's time to tackle the most important element of creating a Facebook store: your product catalog. These are the products you want to sell on Facebook, which will be shown to visitors in your store.
Your product catalog contains detailed information about each item in your store: item title, photos, description, variants (size or format for example) and price. As for classic product sheets , this information must be optimized with keywords in line with the searches of Internet users. You will increase the chances of discovering your products on Facebook.
How to proceed ? In Selling Manager, select "Create Catalog". You will then have 2 options to create your catalog:
"Import product information": with this option, you can create your catalog manually or import information about your items with a data feed (like Google Sheets).
"Connect a partner platform": if you have an e-commerce site on a Facebook partner platform such as Shopify, you will be able to synchronize your Facebook store with your e-commerce site. Your products will be displayed directly in your catalog and you will thus save precious time.
Also, when you sync your Shopify site with your Facebook store, if you make changes to a product with Shopify, the updates are automatically applied to your Facebook store. You will not have to modify the information in 2 different places.
The key points
Create your catalog with the items you want to sell in your Facebook Shop.
Import the information manually or by synchronizing your e-commerce site.
4. Organize your collections
Next fundamental step to create a Facebook shop: organize your collections. What is it about ? Collections are groups of products that make it easier for visitors to navigate your store.
Indeed, on a Facebook shop, the visitor can choose the "Browse" option and view "All products" and "Collections". If you have a large number of products, collections are essential to help the visitor find their way around.
How to do ? Select the "Create Collection" option in Selling Manager. Give your collection a name and select the products from your catalog to include in this collection. It can be a category of products, a theme or a special selection.
The name of the collection can include up to 30 characters and it is possible to use emojis to make the title more visual. You can also include a 30-character subtitle if you wish. Finally, for each collection, you will have the possibility to choose an image. This can be one of the products in the collection or a generic visual.
The key points
Organize your store's products into collections.
Choose a criterion to create your collections: product category, theme, etc.
5. Customize your Facebook store
Facebook offers several options for customizing the look and style of your store. In the Stores tab of the Selling Manager, select "Composition". In particular, you will be able to:
Put a product or collection in the spotlight by simply dragging and dropping
Add a promotion banner to promote a special offer
Choose button and link colors
Choose the shape and outline of the buttons
Choose text size and alignment.
These customization options give you the ability to reflect your branding when creating your Facebook Shop. Namely: Facebook shops are "mobile native" and therefore optimized for mobile browsing. We therefore advise you to test the appearance of your Facebook shop on mobile.
The key points
Select the content to display on the front page of your Facebook store.
Work on the appearance of your store so that it is consistent with your brand image.
6. Publish your store
Once you've set up your Facebook Shop, added your product catalog, organized your collections, and customized the style, it's time to officially create your Facebook Shop!
To do this, submit your store to Facebook for validation. Indeed, before making a Facebook shop accessible, the social network ensures that your articles comply with its rules and eligibility conditions. If so, the validation should be fairly quick.
There you go, you have created your Facebook shop! But do not stop there: there is an additional step to ensure your success on the social network.
The key points
Submit your store to Facebook for review.
Wait for the validation and the launch of your store.
7. Liven up your shop
Once your shop is launched, it is essential to keep it alive! Remember to update your products and collections according to events and seasons, for example with "summer" or "back to school" selections.
Change your featured product regularly. It's the same principle as a physical store: a regularly updated window will generate more engagement.
Also consider setting up promotions. According to the YouGov study cited above, benefiting from a promotional offer is the main motivation for consumers who buy on social networks. To attract users, you can offer promotions and special offers on your Facebook store. Discounted items are available via a "Promo" tab in each Facebook store.
Finally, consider the fact that many Facebook users make impulse purchases on the social network. The YouGov study points out that 79% of buyers spend less than 50 euros when shopping on social networks. Take into account and offer on the front page of your shop accessible items that are likely to trigger a crush.
The key points
Regularly update the content on the front page of your Facebook store.
Offer promotions to attract and encourage impulse purchases.
5 Examples of Facebook Shops
To inspire you when creating your store on Facebook, here are some examples of Shopify merchants who are capitalizing on this sales channel with attractive stores.
The example of the Alain Milliat brand
Alain Milliat is a Made in France brand of fruit juices and tasting nectars as well as high-end jams and condiments. On Facebook, the brand has a community of nearly 10,000 subscribers and a store with a selection of its products.
The advantages of this Facebook shop
Featured promotions
A limited number of collections, per product category
The possibility of contacting the brand on Facebook Messenger
The example of the AVA & MAY brand
AVA & MAY is a brand of scented candles that invites you to travel, offering scents of cities, regions and countries in a candle. The brand has notably built its notoriety and reputation thanks to social networks . Its Facebook store allows visitors to discover the extent of its products.
The advantages of this Facebook shop
A selection of sets to save money
Engaging product descriptions, using storytelling
Collections organized by product category, as well as a "best sellers" collection and another "new arrivals" collection
The example of the Make My Lemonade brand
Make My Lemonade offers clothing made in Europe, with a "Do It Yourself" (DIY) approach. The brand has a boutique in Paris and an e-commerce site. Very active on social networks, Make My Lemonade publishes daily on Facebook and has a very aesthetic Facebook shop.

The advantages of this Facebook shop
Strong visuals that catch the eye
Thematic and natural collections
Detailed product descriptions
The example of the Pôdevache brand
Pôdevache is a fashion and interior decoration boutique, offering chic and design objects. She is based in Valence, in the Drôme. Thanks to its e-commerce site and its Facebook store, the brand can offer its products to everyone and reach a large audience.


The advantages of this Facebook shop
A very extensive product catalog: more than 3,600 items presented
Highlighting brand new products
Many promotions
How to promote products from your Facebook shop?
If you want your Facebook store to be visible, it is important to work on promotional actions. Here are some ideas:
Organize a contest : to celebrate the launch of your store, you can organize a Facebook contest . This is one of the best ways to quickly grow your community and boost your visibility.
Tag the products of your store : in your organic publications – that is to say the publications that you make from your Facebook page – you have the possibility of tagging the products of your store. By clicking on the image, the user can directly access the product in your store.
Launch an advertising campaign: a Facebook advertising campaign is the guarantee of appearing in the news feed of your target, in the form of sponsored publications. You can create Facebook ads linking to your store with a small budget.
Work with an influencer : Some brands choose to work with influencers or nano-influencers to promote their Facebook store, as part of influencer marketing strategies. These partnerships can be temporary or long-term.
Comment on publications : to make yourself known, you can also comment on various publications with your brand's account, for example when a media asks "What is your summer essential?" ". Thoughtful answers, with a touch of humor, can inspire users to want to know more about you and check out your store.
You now know how to create a shop on Facebook, the steps to follow and the points to consider. To attract new customers with your store, work on a promotion plan and be active on the social network. Regularly post new content and respond to queries that come to you through Facebook Messenger. This is how you can create a link with your customers and strengthen the attractiveness of your brand and your products. Finally, check your Facebook statistics and analyze the performance of your store. This will help you identify what works and generates the most sales!