Over the past few months, NFT-related scams have been on the rise . One of the best known of these was to drain users' NFT wallets by making them sign a fraudulent contract. Once the user signed, the scammer then had access to part or even the entire wallet and could then transfer the NFTs as they saw fit and resell them.
This is how very high value NFTs such as BAYCs have been stolen on multiple occasions. Some people have lost millions of dollars , all because of a single transaction.
In an attempt to stem this scourge which is becoming more and more worrying, MetaMask, the main Ethereum wallet with more than 20 million active users, has added an interesting feature, which should greatly reduce this type of scam .
What is this update about?
With the 10.8.0 update, users will enjoy an additional layer of security . Thus, the software will now ask you if you want to let the contract you sign access some of your NFTs, which was not the case before.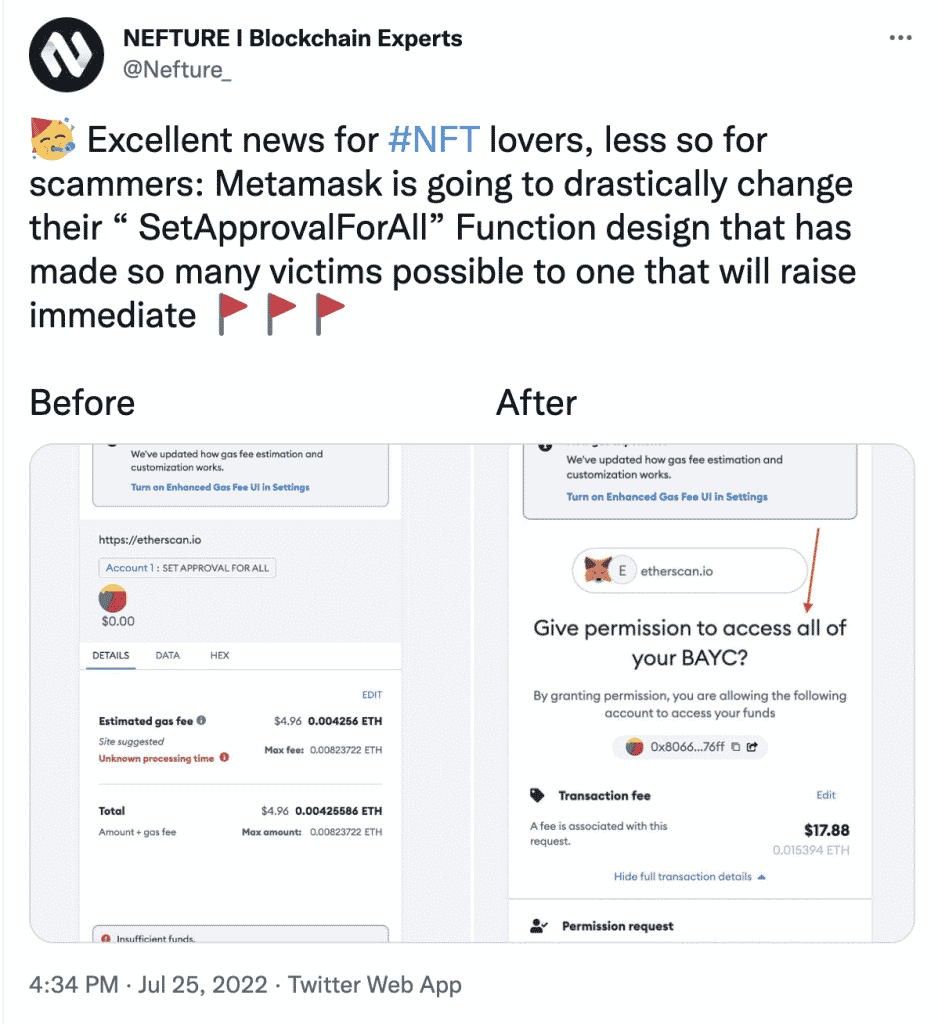 If this access is not authorized, the person opposite will have no access to your NFTs , nor to all of your possessions stored on the crypto wallet in question.
Prior to the incorporation of this update, access was automatically granted upon signing. This contribution from MetaMask should make it possible to bring more clarity to users vis-à-vis what they are signing, and to think twice before accepting a transaction.
A more than urgent addition
When it comes to scams related to NFT wallets, the situation is more than critical to say the least .
The MetaMask team is well aware of this , since last June, Alexander Donesky, one of the engineers behind the software, declared:
There is a real urgency to develop something since this technique is so widespread
Indeed, the phishing scam is the most used by these NFT thieves, because it is both very easy to set up and extremely effective.
Whether it's via Twitter, notably via the recent hack of several NFT influencer accounts, or on Discord, scammers are on all fronts. Unfortunately, many people continue to fall into these traps, which can be very well put together.
This is not just a rookie mistake, since many very large wallets have also been victims of these scams .
It is therefore high time to take measures of this kind, which will make it more difficult for scammers. However, the awareness and caution of users could well be the best brakes against these traps that abound in the web3.
Vigilance remains in order
Indeed, although this addition from MetaMask can only be appreciated and will help to reduce these types of scams, it would be utopian to think that this will mark the end of these scams in the world of NFTs.
In fact, even if that were the case, scammers would always work harder to find new ways to steal these coveted digital assets.
So, the best thing to do if you want maximum protection from it is not to rely on updates from crypto wallets. In all circumstances, be sure to be extra vigilant and adopt good behavior in this regard.
Here are some tips to keep in mind to protect yourself, as much as possible, against these NFT scams:
Never give your private key to anyone, under any circumstances
Always check the URL of the site on which you authorize a transaction
Remember to take a look at the social networks of the project in question, in order to ensure that the site or the Discord of this one has not been hacked
By adopting these gestures, you will radically reduce the chances of falling victim to one of these schemes.