NFTs continue to grow in popularity, whether in Europe or in the rest of the world. As a result, many people are discovering this medium and want to invest in it, but are wondering " what is the best NFT project to invest in? ". If you recognize yourself, know that you are in the right place!
On this page, we're going to share with you 12 NFT projects that we think are some of the best to date, as well as different things to consider when picking out a worthwhile NFT project.
How to find promising NFTs to invest?
Have you taken note of the list above but want to know how to go about it so that you can spot promising NFTs on your own and invest in them as soon as they emerge? For this, many criteria must be taken into account, and we will develop them one by one.
The creator of the collection
The creator of the project plays a key role in the success or otherwise of an NFT project. If the person behind the project is recognized as a reliable person in the web3 world, that's a great thing. On the contrary, a project whose creators are dubious, or worse, unknown, does not deserve your attention.
The NFT Squiggles project is a textbook case in point, for the wrong reasons. This one had absolutely everything to impose itself…except the creators, who were more than doubtful. As a result, despite incredible hype at the launch, the project totally failed. This example therefore shows that it is essential to do research before spending money on a project.
The sale price
The sale price of an NFT during the mint is also taken into consideration. As a general rule, keep in mind that a project that wants to reach as many people as possible and last for a long time has no reason to set a mint price that is too high .
Even the projects that today are hugely worth on the secondary market, were launched at more than affordable prices for the most part. As an example, the mint price of BAYC was… 0.08 ETH!
usefulness
Most of the great NFT collections are much more than just images, and offer real benefits to their holders.
When you own a BAYC, you have the opportunity to join a community, a social circle of very interesting people. In addition, everyone with a BAYC has recently received Apecoin, the new cryptocurrency from Yuga Labs.
It's the same for other projects. For example, the NFTs signed Lucky Block allow you to participate in draws , while donating 10% to associations for example.
Whether it is financial or "social" benefits, an NFT project that is useful will always be more interesting.
Projects attracting celebrities
When a music superstar, sportsman or Hollywood actor decides to put an NFT as a profile picture, it's usually very positive since it puts the spotlight on the project in question, and stirs up the curiosity of people outside this environment. Something to stimulate activity around the collection concerned and potentially increase its price.
What is the best wallet to store NFTs?
If you decide to invest in NFTs, it is absolutely crucial to turn to the best existing wallets , in order to offer you optimal security.
Indeed, hackers are unfortunately legion in this space and having a good wallet will protect you from them and significantly reduce the risk of having your precious NFTs stolen.
Currently, there is an immense amount of wallets available, all with specific features. In reality, to choose your wallet, a few key points must be taken into account: the security it offers, its reputation, its ergonomics, and its compatibility with the different blockchains available.
By taking all these criteria into account, we can considerably reduce the list of wallets being good options. And to make it even easier for you, we have compiled a list below of the 5 best wallets, in our opinion, according to the criteria mentioned above. Here they are :
MetaMask
Coinbase Wallet
Engine
Trust Wallet
AlphaWallet
How to buy cryptocurrencies to invest in an NFT?
You are ready to buy NFTs… well almost! Indeed, you are still missing one thing: cryptocurrencies .
Most NFTs are purchased using cryptocurrencies, so you will need to source them before you can purchase the NFTs of your choice.
You do not know how ? No worries ! The procedure is extremely simple and quick. And once you've done it, you won't have to worry about doing it again. To guide you during your first purchase, here is a short step-by-step guide to help you see things more clearly and buy cryptocurrencies on Crypto.com .
Download Crypto.com Mobile App
The first thing to do is to go to the App Store (or the Play Store if you are on Android) and download the Crypto.com Application. It is through this application that you can buy cryptocurrencies. You can also click here to create your account before downloading the app.
Create an account on Crypto.com
After downloading the Crypto.com app, click on it. You will then be asked to create an account (or identify yourself if you already have one). Choose "Create New Account" then proceed to registration.
You will first need to provide an e-mail address.
Once this is done, you will have to click on a confirmation link received by email and you can continue your registration, by entering information such as your telephone number, your first and last name, or your address, and determine a password. .
Get your account verified on Crypto.com
When you have completed all the information requested by Crypto.com, the platform will inform you that it will come back to you within 24 hours, the time of the verification procedure. You just have to wait.
Buy cryptocurrency from the app
Is your account now validated? Awesome ! So you can get the cryptocurrency of your choice. In the majority of cases, it will be either Ethereum, the flagship cryptocurrency when talking about NFT, or Solana, which is a serious alternative.
Either way, all you have to do is click on "Trade" from the home page……then on "Buy", and choose the cryptocurrency you are interested in. At this time, you will be able to get some using a bank card, crypto or Fiat.
Transfer to your Wallet
Now that you have cryptocurrencies, the last thing to do is transfer it to your wallet so that you can make purchases on the NFT platforms of your choice.
To do this, nothing could be simpler: go to "Transfer" on the home page, then "Withdraw". You will then be offered various choices of withdrawals. Choose "External wallet" and add your wallet address, choosing the corresponding blockchain.
The transaction usually takes a few minutes to complete.
There you go, you now know how to get cryptocurrency and transfer it to your wallet in order to exchange it for NFTs!
As you can see, apart from the registration, which can take a day, the process is fast and all of this can be done in just a few minutes.
Focus on the best NFT projects of 2022
Without further ado, we are going to give you all the details on all the projects to follow in 2022. This way you can decide which project corresponds most to your expectations.
Lucky Block NFTs
Lucky Block is, in our opinion, the best choice when it comes to investing in NFTs in 2022 . After proving to be one of the best altcoins to look into this year, thanks to its innovative and unique tokenomics, Lucky Block decided to launch a collection of 10,000 NFTs ahead of the launch of their cryptocurrency lottery app.
Also called " Platinum Rollers Club ", this collection is very interesting since it offers real usefulness to its holders. Thus, anyone with an NFT from this collection will benefit from daily lucky draws made by Lucky Block. Clearly, these NFTs serve as tickets to take part in these daily draws.
Note that these draws will be separate from those related to the crypto-lottery, which is a considerable advantage since it reduces the number of participations. Which, therefore, increases the chances of winning for the owners of these NFTs. The stake in each draw will be the equivalent of 2% of the main draw.
The Platinum Rollers Club collection was officially released on March 19, 2022 , for a price of $1,500, or just under 1,450 euros. During the Mint, it was possible to win " Rare Edition " NFTs. Their usefulness? These simply allow you to double the winnings in the event of a winning draw. Just that !
Finally, Lucky Block has a real humanitarian ambition since 10% of each jackpot will be donated to charity, which will be chosen directly by platform users.
Clearly, the Platinum Rollers Club collection is already installed as a serious and reliable project, and can bring big returns to people who invest in it.
CryptoMines Reborn – NFTs Games
Some NFTs may have a completely different use. This is for example the case of CryptoMines Reborn . Indeed, NFTs have a special role here since they will only be used to progress in the CryptoMines Reborn Play-to-Earn game.
So, if you want to get into an immersive game in the heart of the metaverse , we recommend the latter without hesitation. Despite a somewhat difficult start at the end of 2021, the project has listened to its community. This represents, in our opinion, a real guarantee of reliability for this project.
In this context, CryptoMines Reborn has therefore implemented an important set of updates. In line with the existing NFT market, the game also got a new Smart Reward System (SRS) putting the CRUX token in the spotlight.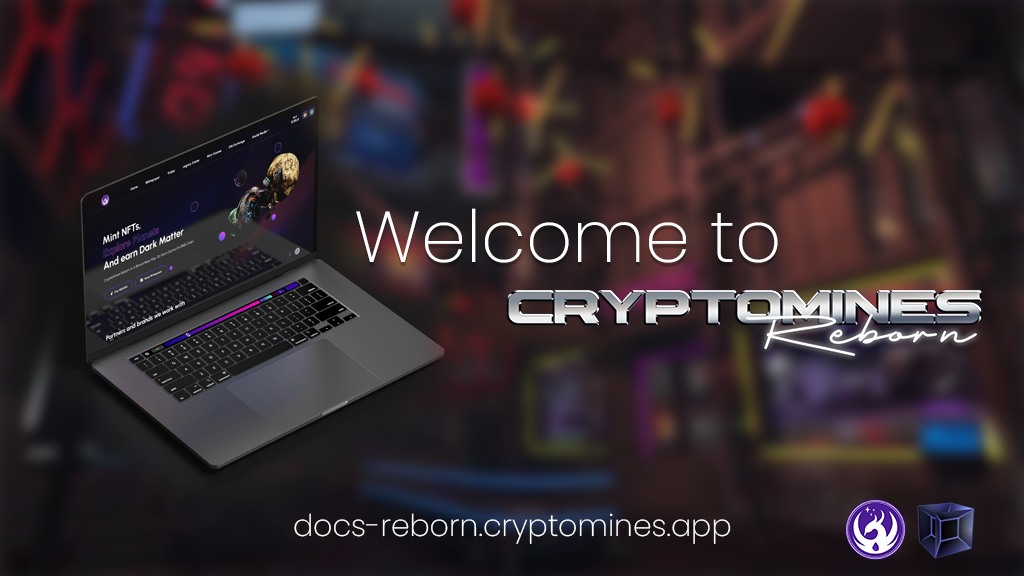 To give you more details about the game, this one is very simple but at the same time attractive. You will need to find the maximum of WCRUX that will be used in the metaverse. These will thus allow you to explore the different galaxies and in the long term, will allow you to generate profits. So, to take part in this game, you will absolutely need the NFTs .
It should be clarified that the total supply of CRUX tokens amounts to 5,000,000. The token has a resale period of 60 seconds to protect itself from trading bots.
If you are interested in this project, we advise you to follow the CryptoMines Twitter or the Discord of the game. You will find all the social networks of the project on the official website of CryptoMines Reborn .
Yubo – The NFT project of the ultra-innovative French social network
Yubo was launched in 2015 and already has over 60 million users . It is a live streaming social network. The purpose of this network is to make users socialize with each other, in a friendly way, all over the world.
Especially focused on Generation Z , young people are snapping up this application which continues to be talked about.
Just recently, the team behind Yubo decided to launch their non-fungible token collection in which 10,000 coins will be offered for sale.
Each NFT can of course be used on the application as a profile picture, but not only! This will allow them to show their membership in the Random Fam, and to enjoy many advantages such as:
VIP meetings with influencers
Access to exclusive products (t-shirt, sweatshirt, cap, etc.)
Bored Ape Yacht Club
How to talk about NFT projects without mentioning Bored Ape Yacht Club ? This is simply impossible, as this project has had a key role in the expansion and popularity of NFTs during the year 2021.
Created by Yuga Labs and officially released in May 2021, this collection of 10,000 NFTs, featuring, as the name suggests, bored-looking monkeys, is undoubtedly the most popular collection , both in and out of the NFT space.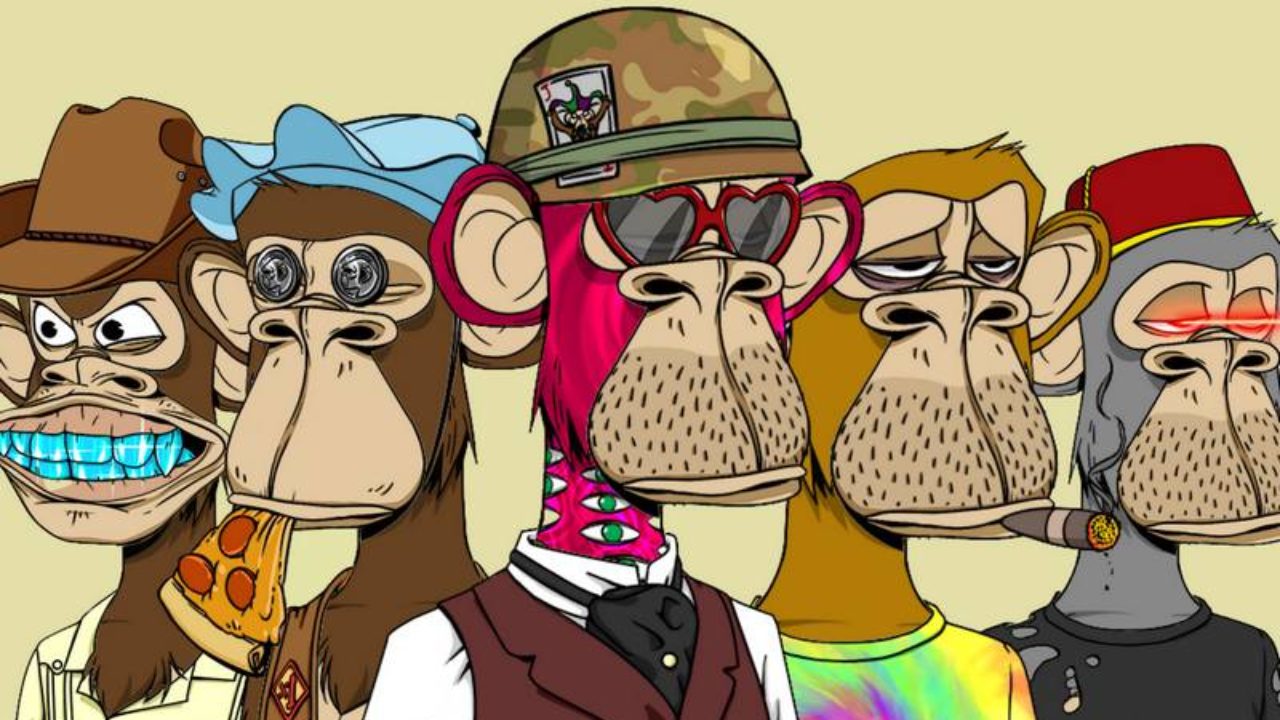 Indeed, even people who are not interested in NFTs recognize these monkeys, in particular because they have been used in profile photos by many international stars, from Wiz Khalifa to Future, via Paris Hilton.
Today, owning a BAYC is a real sign of social status since the floor price of the collection is currently at 120 ETH , or nearly $350,000 at the current price of ETH.
Having a BAYC therefore means being part of a very closed club, in the strict sense of the term. Beyond the prestige surrounding this collection of NFTs, these also have a real utility since they offer access to the "Yacht Club".
It's happening on Discord, and since a lot of BAYC holders are big-name entrepreneurs, celebrities, or just plain experienced people, having access to this community is a definite plus.
Finally, it should be noted that a number of extremely promising projects continue to be developed by Yuga Labs and are closely linked to BAYC. This is particularly the case of the Apecoin cryptocurrency and the Otherside metaverse.
For all these reasons, buying an NFT Bored Ape Yacht Club can only be a good idea to date, despite its extremely high price which, we are aware, is far from accessible to everyone.
CryptoPunks NFT
Just like Bored Ape Yacht Club, CryptoPunks is a project that should be mentioned when talking about NFTs, because it has contributed greatly to their development.
Speaking of Bored Ape Yacht Club, the company behind this project, Yuga Labs, has recently acquired the intellectual property rights to this collection. This is a very good thing since Yuga Labs is one of the most powerful companies in the NFT world.
But, apart from that, and even before this takeover, CryptoPunks was already an iconic NFT collection, especially because this is one of the very first NFT projects in history. Recall that it was born in 2017.
Much like Bitcoin is the "ancestor" of cryptocurrencies, insofar as without it, cryptocurrencies would probably not have the place they currently have, CryptoPunks also has this pioneering role .
And although their floor price is no longer the highest as it may have been before, CryptoPunks is definitely a must-have project and one that will still be very interesting to invest in if you can afford it.
Doodles, A unique art
With unique aesthetics and colors, Doodles created a real impact in the world of NFTs when it was released at the end of 2021, so much so that many emerging projects are now inspired by this very particular style .
Doodles is a collection created by Poopie, Tulip and Burnt Toast. These are three personalities who were already well known in the NFT space since they had already, for two of them, contributed to the birth of CryptoKitties , another digital project which met with real success.
If this original, childish and very amusing visual side of Doodles largely contributed to the success of the project in the first place, it imposed itself, a few months later, as an undeniable blue chip for many other reasons.
When the Doodles Project is talked about, it's always for good reasons. No real negative controversy around the project has taken place to date, which shows the seriousness and professionalism of the team.
Many events around Doodles have already emerged, the biggest of which is probably Doodles SXSW, an exhibition aimed at recreating the world of Doodles, in collaboration with Shopify. All this aims to democratize the brand to the general public. It is precisely with these kinds of initiatives that this can happen.
Finally, Doodles is a project that continues to innovate. With Space Doodles, released a few months ago, each owner of an original NFT Doodles has the possibility of "swapping" their item in order to add a special ship and an animation to it , and to return to the original version whenever they want. seems.
In short, Doodles is a project that pleases, that brings people together (many personalities have already invested in it, such as Justin Bieber , or figures in the web3 world like Alexis Ohanian or Pranksy) and, above all, that innovates, bringing real advancements to NFTs. For all these reasons, investing in Doodles is a good idea!
Axies NFTs
Axie Infinity is a real juggernaut in the NFT world. These are the projects that have paved the way and enabled many others to see the light of day. Axie Infinity is a play-to-earn developed by Sky Mavis, a Vietnamese studio.
The concept is simple: raise Axies, cute round creatures, so that they give birth to new creatures, whose characteristics will be determined by the genes of the parents.
Axies are also made for combat, and have specific types. During a fight, a player must create a team of 3 Axies, ensuring that they are complementary.
As you will have understood, this is a game whose universe and gameplay are reminiscent of the famous Nintendo pocket monsters .
The major difference with other games of this genre is that Axies are NFTs, meaning that you actually own them and can resell them on the game marketplace , sometimes at astronomical sums.
An Axie, for example, sold for more than 1 million dollars in 2021, while sales of tens of thousands of dollars are not so rare.
Moreover, there are many people who can completely live from this game , by generating more or less large sums depending on their creatures.
In short, buying an Axie is like actually setting foot in the blockchain and the web3, via a game of very large scale, whose growth has been immense in 2021 and which continues to evolve positively
Decentraland
If it's the "metaverse" side of NFTs that interests you, and you want to invest in plots of land, then Decentraland is an excellent choice. Decentraland is an ecosystem based on the Ethereum blockchain but whose "official" currency is MANA.
What is very interesting with Decentraland is that it is actually much more than parcels of land, since it is possible, for the people who own land there, to use the tool of construction to build tons of things, including games!
Clearly, Decentraland is a metaverse that offers great freedom to all of its players. Moreover, it continues to evolve, in particular because its community continues to develop new decorations there. You can therefore find dungeons from medieval times as well as spatial settings!
The community aspect is an integral part of Decentraland. It is also possible to buy and exchange various things: plots of land, clothes, weapons, and works of art. Something to bring players together and make the project even more attractive.
As you will have understood, Decentraland is an ultra-ambitious and promising project, which is already well in place and whose ambition is to grow, by bringing more and more people into it, and even people originally from outside the web3 and NFTs.
It is therefore a more than solid choice of investment, because the NFTs linked to Decentraland will necessarily take in the event that this metaverse gains momentum. Very large sales have already been made, since some lots have sold for tens of thousands of dollars.
Meebits NFTs
Meebits is an NFT collection created by Larva Labs, the company behind CryptoPunks. This point alone is enough to certify that Meebits is a reliable and well-framed collection .
Another positive point: this collection was also bought by Yuga Labs (Bored Ape Yacht Club). Concretely, this means that the project is far from being abandoned and that interesting news about it could emerge throughout the year. Anyway, Meebits is in good hands, which is reassuring.
As for the specifics of the collection, it is a collection of 20,000 NFTs launched in 2021, so much later than CryptoPunks, featuring 3D avatars, with unique traits randomly generated for each of them. 'between them.
At the moment, the floor price of the project is 6.69 ETH, while its price during the mint was 2.5 ETH , which was far from a negligible price.
Anyway, the project has clearly appreciated and is very solid. Many sales are made daily, and the trading volume is over 100,000 ETH, which is huge, and puts it in the rank of very big projects, like Doodles.
Meebits therefore has everything of a quality project and the takeover by Yuga Labs only suggests good things for its future. If you were wondering why invest in Meebits, you now know!
Pudgy Penguins
If you're looking for an NFT collection that's a bit cheaper (compared to other projects such as BAYC or CryptoPunks) and is now well established, Pudgy Penguins might be a choice to consider.
The 8,888 NFT project, whose floor price is currently at 1.8 ETH , which is just over $5,000 right now (but has already seen immense sell-offs, one of which of them at more than 400,000 dollars for a rare item!), was born almost a year ago, in July 2021.
This project is therefore one of those that was created shortly before the huge NFT boom, and has managed to remain relevant despite the arrival of countless projects. This already gives him some credibility.
Admittedly, there are many controversies surrounding the project, one of which notably occurred in January 2022, when the founders (including ColeThereum, a famous Twitter NFT influencer, who was, roughly speaking, the face of the project ) were accused of wanting to resell the project after transferring all the profits to themselves.
In addition, many promises have not been kept, especially regarding the creation of a game or a token…
However, the original founders were removed from the project and it was able to rise from the ashes , seeing its floor price increase considerably in recent months.
Autograph.io
If you are a sports fan, Autograph.io will be the perfect place for you! This marketplace, based on Polygon co-founded by NFL icon Tom Brady, aims to give various sports celebrities and influencers the opportunity to launch their own collection, or limited edition items.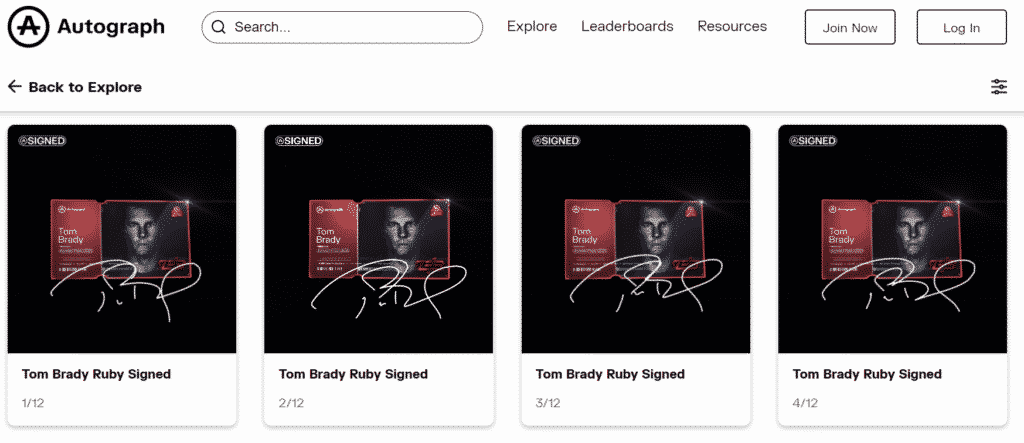 The concept is promising and the platform is already used by big names. Recently, a collection bearing the image of Tiger Woods has emerged on the platform. Tony Hawk and Usain Bolt have also already partnered with the platform.
It must be said that Autograph.io is supported by people of influence.
Funded to the tune of 160 million dollars , part of which by prestigious names such as The Weeknd or Eddy Cue, ex-vice president of Apple, Autograph.io is a more than promising platform, on which it is possible to find thousands of NFTs, at prices that can vary greatly, which makes the platform accessible to everyone.
Additionally, DraftKings, another marketplace with a somewhat similar concept, recently partnered with Autograph.io, increasing the reach of the latter.
In short, buying NFTs on Autograph.io is a smart choice as these are often valuable and likely to increase in value enormously over time.
With over 100,000 sales made on the platform, Autograph.io has established itself as a top choice when it comes to sourcing sports-related NFTs, autographed by top athletes.
Galactik Gang
Created by renowned Peruvian and Canadian artist Chris Dryer, Galaktic Gang is a collection featuring 5,555 randomly generated NFTs. Their psychedelic and colorful look makes these NFTs special and original . They are an ideal choice as a profile picture.
But in addition to the aesthetics of the collection, it has a real humanitarian significance . Indeed, by creating The Galaktic Gang Collection, Chris Dryer had the ambition to have a positive impact on the world.
Thus, 10% of the profits from sales generated by this project have been donated directly to associations, since its launch in December 2021.
Galaktic's current floor price is 0.115 ETH, which equates to just over $300 . Despite this fairly low floor price, the project has already experienced colossal sales, at several dozen ETH: Galaktic Guy #5111 sold for 51.11 ETH (almost $150,000) and Galaktic Guy #1500 for 20 ETH (nearly $60,000).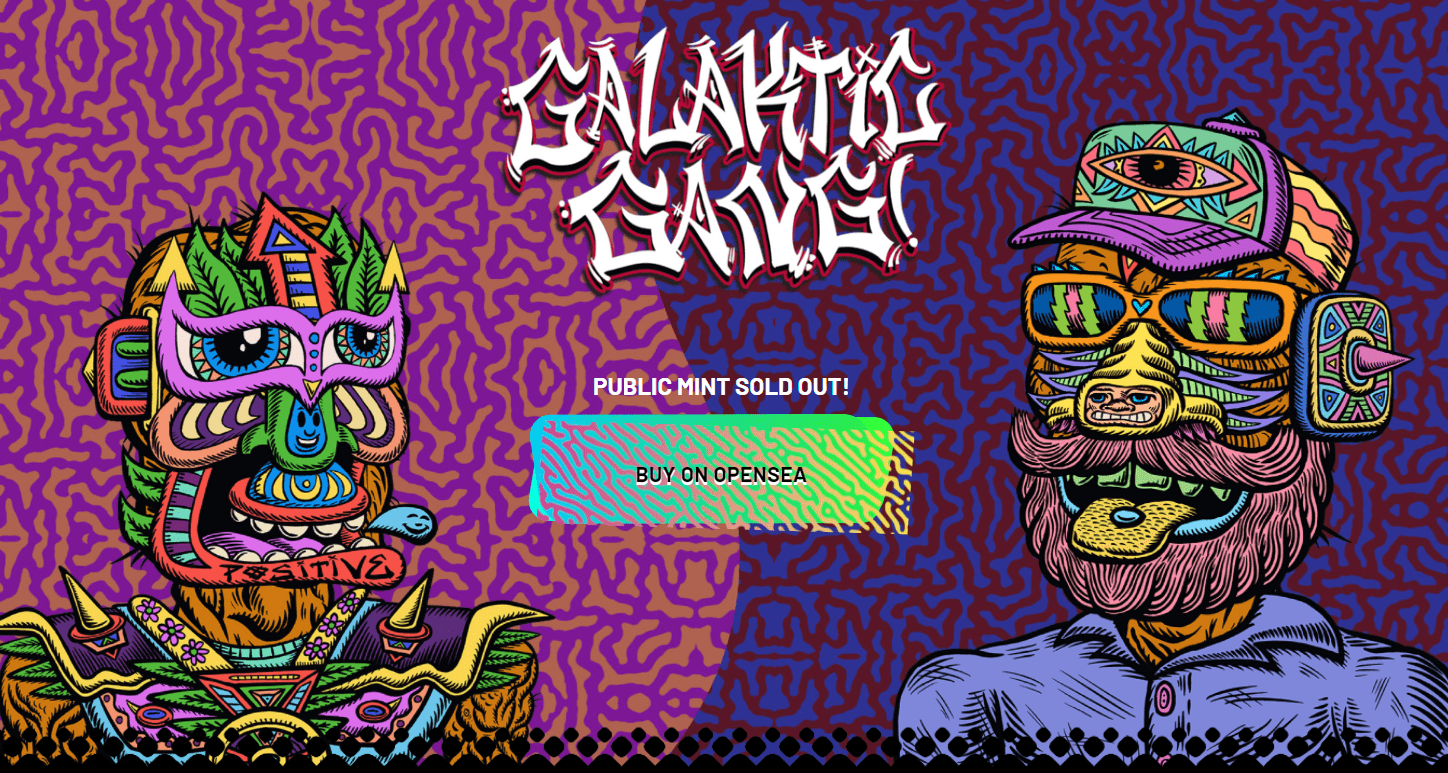 Of course, these were very rare and coveted items, but the fact that people are ready to invest such large sums on a project whose floor is much lower proves that they have confidence in it and in its development potential .
Anyway, Galaktic Gang is really accessible…for the moment, because there is no guarantee that this price will not fly away in the weeks or months to come.
Galaktic Gang is a reliable project, founded by a serious person, and whose cause is noble. So you can invest in it with peace of mind!