The NFT market is booming… but when should you invest? Discover the top of the most popular and expensive NFT collections!
Initially seen as a fad, the NFT market took off in just a few months. Gradually, non-fungible tokens are becoming more democratic and conquering the general public.
Many celebrities use NFTs as their profile picture, and big brands like Nike and Adidas sign contracts with NFT creators to enter the metaverse .
One of the best-known NFT collections is the Bored Ape Yacht Club . However, there are many very interesting NFT collections whose value could explode…
CryptoPunks
Bored Ape Yacht Club
Mutant Ape Yacht Club
Otherside
CyberKongz
World of Women
Doodles
VeeFriends
Clone X
Cool Cats
Moonbirds
CryptoPunks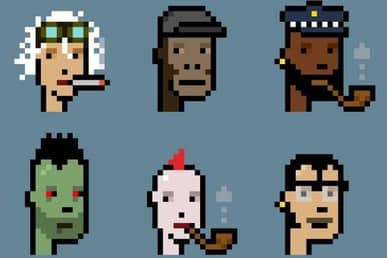 Often cited as the first NFT collection , CryptoPunks was created in June 2017. It is a collection of 10,000 8-bit Punks . Buying a cryptopunk is a form of consecration for enthusiasts, due to the symbolic importance of this project.
When initially launched by Larva Labs, CryptoPunks were offered in "free mint" . Buyers only had to pay the transaction fee, not the NFT itself.
Water has flowed under the bridge, and the cheapest CryptoPunk currently costs over 0,000 . The most expensive was sold for 8,000 ether, or $23 million .
CryptoPunks also laid the foundation for the NFT universe: collections of 10,000 coins , and randomly generated traits and attributes that vary in rarity. In 2022, Yuga Labs acquired CryptoPunks.
Bored Ape Yacht Club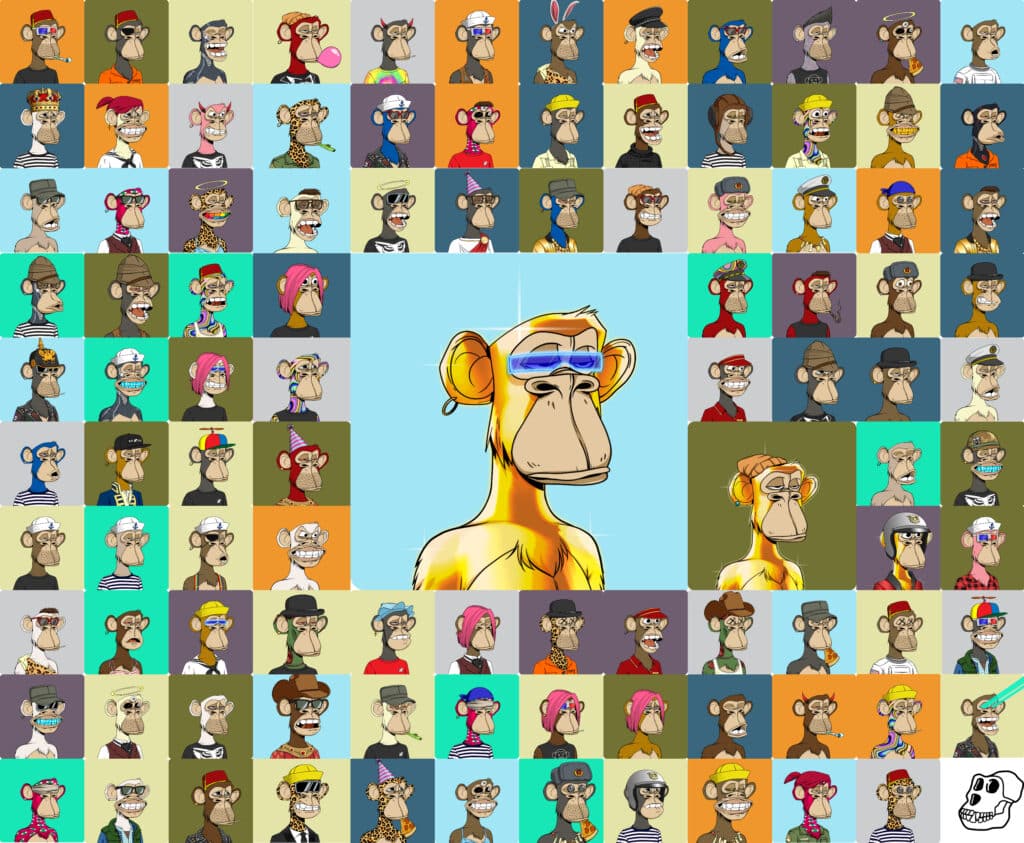 If the CryptoPunks are the oldest NFTs, the Bored Ape Yacht Club is the most well-known project . For good reason, many celebrities have bought their own token to use as an avatar on social networks. We can cite for example Steph Curry, Eminem, Jimmy Fallon or Madonna.
It is also the most ambitious project. In March 2022, creator Yuga Labs launched a cryptocurrency Ape Coin and acquired CryptoPunks and Meebits collections. The firm is also developing a metaverse called Otherside .
Additionally, a film trilogy is in development and partnerships have been forged with companies like Adidas. A collection of figurines is also in preparation.
The cheapest Bored Ape is currently priced at 116 ether, which is the equivalent of $341,000 . The most expensive NFT was sold for 769 ether, or $2.3 million. The price is high, because holding a Bored Ape Yacht Club confers symbolic status.
Mutant Ape Yacht Club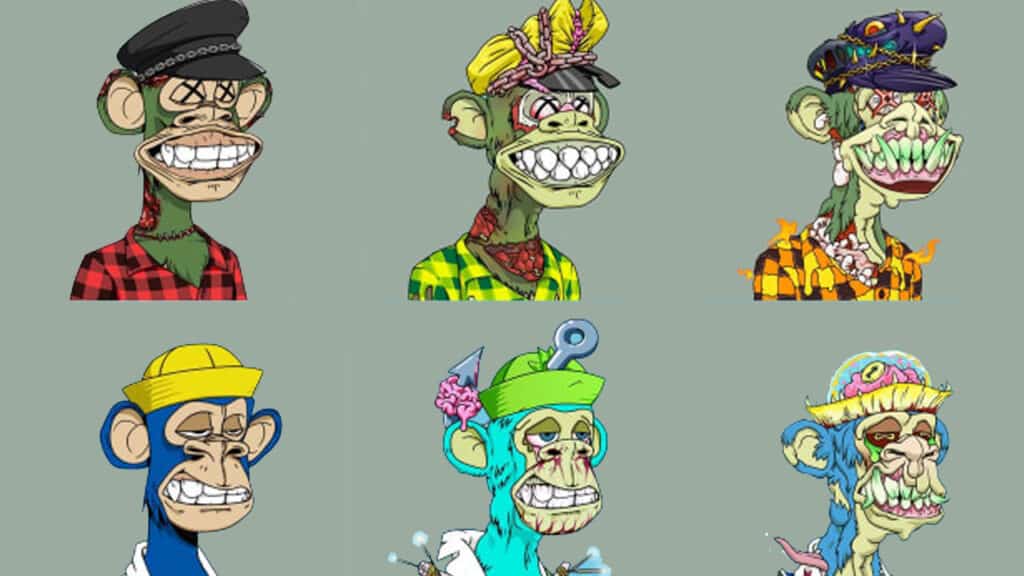 Most NFT projects have roadmaps. The first phase of Yuga Labs' project for the Bored Ape Yacht Club was an airdrop in August 2021. Each Bored Ape owner received a dose of "mutant serum" available in three varieties: M1, M2 and M3.
Each could choose to keep their serum, or use it on their Bored Ape . This allows the creation of an entirely new NFT, part of a new collection: the Mutant Yacht Club.
Along with the 10,000 Mutants created by Bored Apes owners, another 10,000 have been sold at auction . Mutants were offered from 3 ether, the equivalent of 9000 dollars. Their price dropped every 10 minutes. However, the tokens were all sold almost immediately despite the very high price.
The goal of this project was to expand the BAYC collection and make it more accessible to newcomers. Indeed, in August 2021, Bored Apes were already very expensive and were trading at over 20 ether ($60,000).
More numerous, MAYCs are less rare and therefore less expensive . They have, however, become one of the most prized collections.
At the same time, Bored Ape holders who have chosen to keep their vial of serum are also sitting on a small fortune. The M1 and M2 serums sell for over $100,000 . And there are only 8 vials of M3 serum, the price of which is even higher. The last one put up for sale found a buyer for 1542 ether or 5.9 million dollars. There are only two M3 serums left to use on Bored Ape NFTs…
Otherside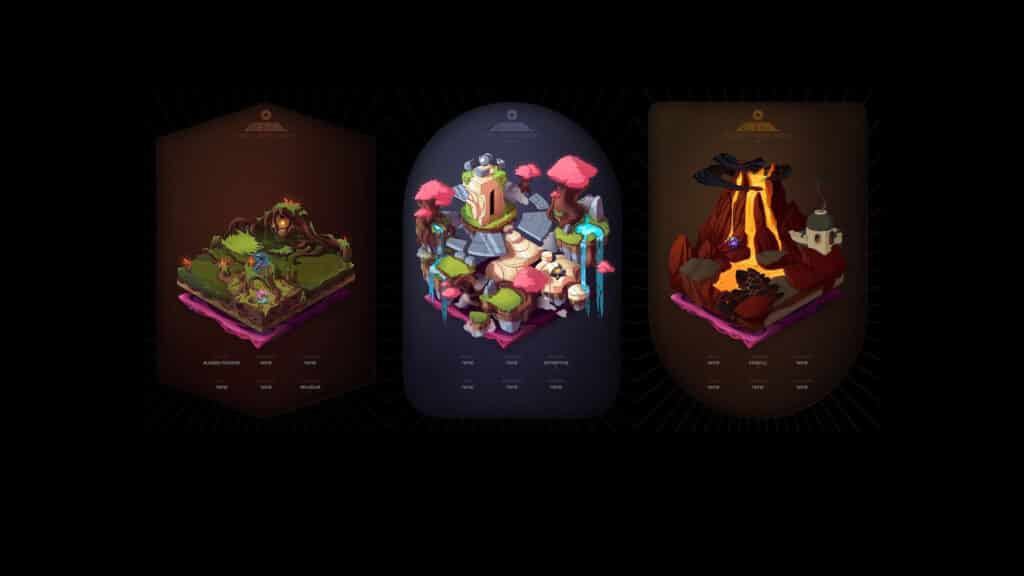 Otherside is the metaverse created by Yuga Labs and the Bored Ape Yacht Club. This virtual world is presented as a massively multiplayer online video game , in which players will have to unite to face many challenges.
This game will allow you to use any NFT character as an avatar , thanks to an import tool. In addition, the economy of this metaverse will be based on NFTs and the ApeCoin cryptocurrency.
The title is not yet available, but a public sale of 55,000 virtual lands in NFT was organized on April 30, 2022. The lands that did not find a buyer were airdropped to members of the Bored Ape Yacht Club and the Mutant Ape Yacht Club. In the coming months, 100,000 additional lots will be distributed to people contributing to the Otherside project.
The launch price was set at 305 ApeCoin ($5800) , and the floor price reached 3.45 ether ($10,100) in May 2022. While the floor price may seem relatively low, it is important to point out that this collection is 10 times the size of a typical NFT project.
Additionally, land with rare attributes can fetch sky-high prices. The most expensive piece of land sold for 333 ether, or nearly $1 million.
In total, Yuga Labs raised $320 million through this public sale. Including secondary sales on OpenSea, nearly a billion dollars have been spent in less than a week in Otherside courses.
CyberKongz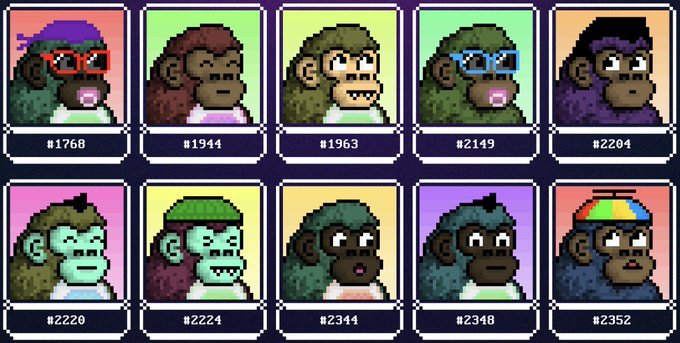 CyberKongs are pixelated monkeys , considered the first NFT collectible to offer "utility" beyond the artistic aspect.
Originally, the project consisted of 1000 "genesis" Kongs generating 10 $BANANA cryptocurrency tokens per day. Anyone who held two Kongz and 0 BANANA could combine the two NFTs to create a BabyKong.
BabyKongs do not generate $BANANA tokens, but they sell for around $15,000. In less than a week, the CyberKongz were all sold out . This popularity is explained by the possibility of generating passive income for the holders.
$ BANANA tokens sold for $20 at the high, and their price is still hovering around $5. Knowing that a Genesis Kong produces 10 tokens per day, a holder can earn more than $18,000 per year. So people who invested $30 in a Genesis Kong in 2021 have made a great investment…
Azuki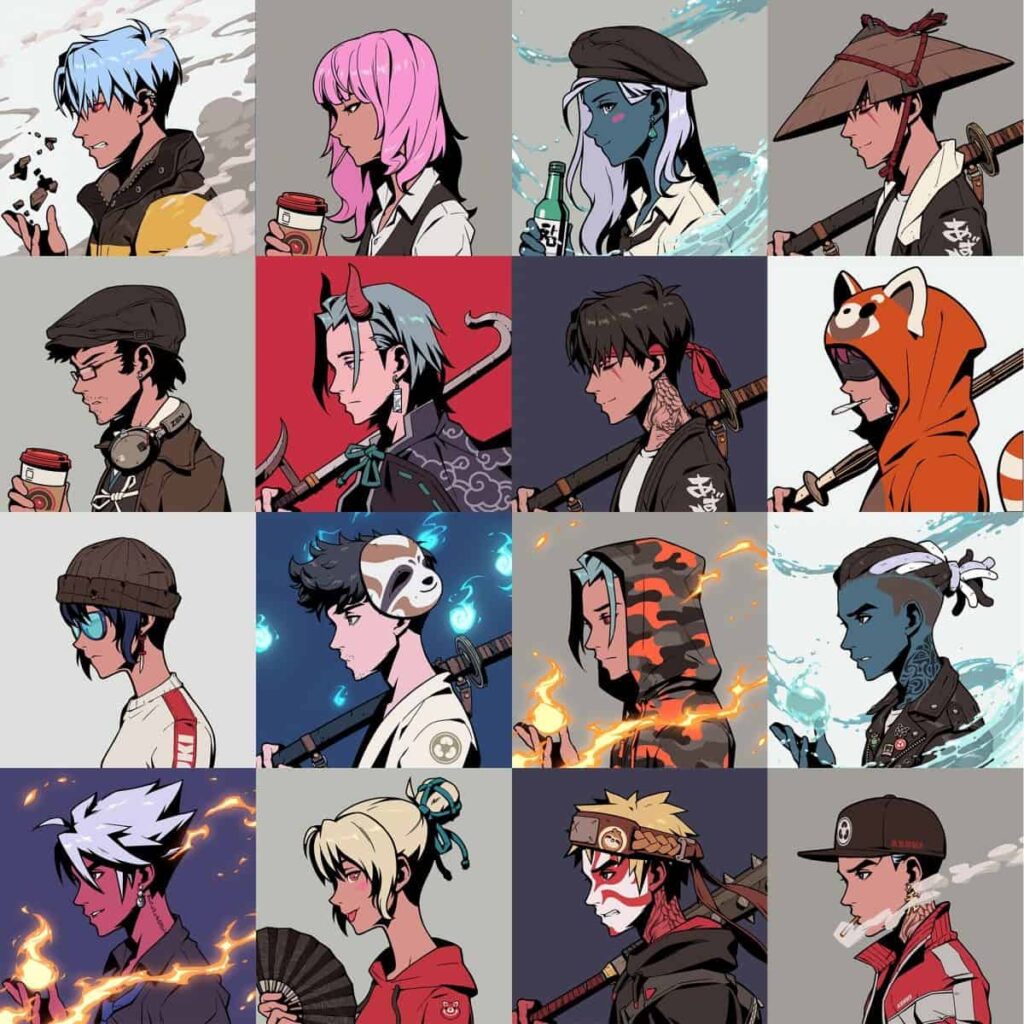 Many of NFT's creators have attempted to draw inspiration from manga aesthetics . Several projects from this movement met with some success at launch, including The Sevens, on1 Force and Divine Anarchy.
However, the enthusiasm around these collections did not last long. On the contrary, the Azuki collection has established itself in just a few months .
Designed by a former Overwatch game art designer , Arnold Tsang, Azuki was launched in January 2022. Each NFT was sold for 1 ether, or around $3,000.
Now, the floor price exceeds 20 ether or more than 60,000 dollars. The most expensive token sold for 420 ether, or around $1.3 million.
In total, NFT Azuki's sales on OpenSea alone amount to $570 million. This is the sixth most popular NFT collection to date.
A secondary collection titled Beanz was launched. These are NFTs with the image of beans, currently selling for $17,000 each.
World of Women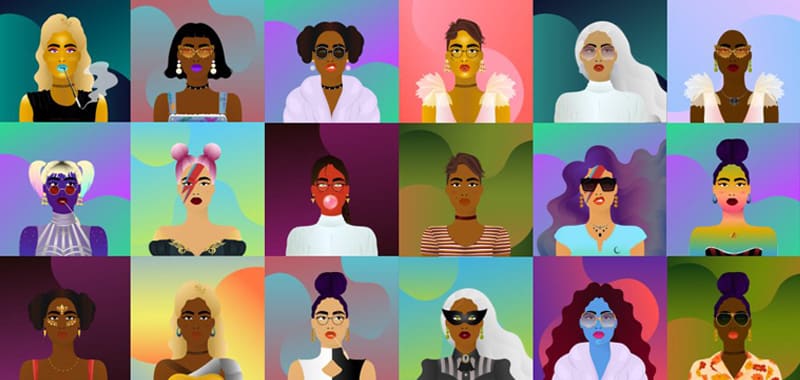 NFT projects can also bring social demands. This is the case of World of Women: an openly feminist project , aimed at highlighting women in the small world of NFTs.
This is an all-female NFT collection designed to encourage diversity within the community. The launch took place in July 2021, for a starting price of 0.08 ether per unit or approximately $260.
Apart from the Bored Ape Yacht Club, this collection is probably the best known to the general public. Among the holders of NFT WoW are celebrities like Dez Bryant , Eva Longoria or Reece Witherspoon.
The latter even produced a TV series and a film through her company Hello Sunshine , in order to extend the World of Women brand. The floor price is currently 6 ether, or around $17,000 per token. The most expensive coin in the collection sold for 260 ether, or about $634,000.
The success of World of Women inspired other feminist NFT collections . Examples include the Boss Beauties and Sad Girls Bar projects.
Doodles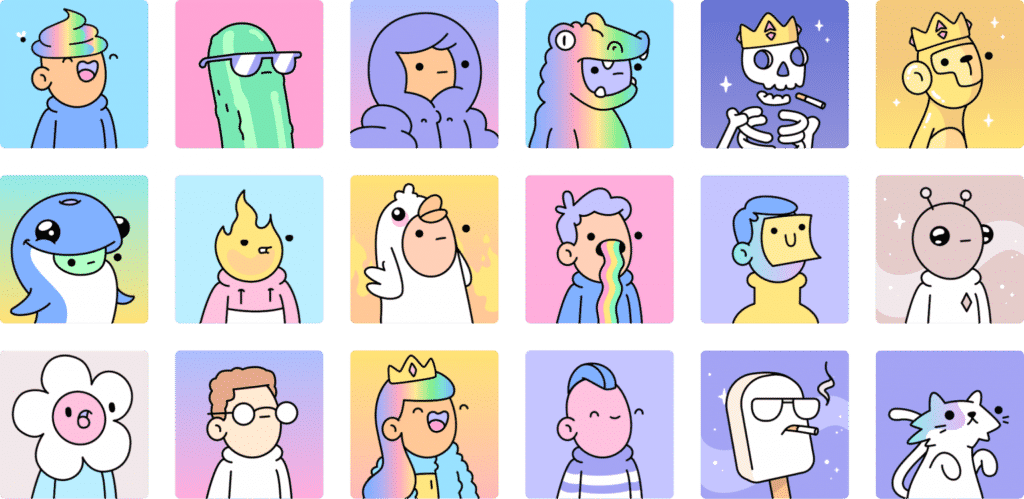 Launched in October 2021, the Doodles collection quickly met with success. And this for many reasons. First of all, the creators of this collection already have experience in the field of NFTs since they worked on the CryptoKitties collection in 2017.
In addition, the team manages the DoodleBank : a multi-million dollar treasury allowing holders to vote on how funds are invested. Several celebrities like Justin Bieber have chosen to join the adventure.
The cheerful and colorful aesthetic of the Doodles has also helped make them essential among enthusiasts. The launch price was 0.123 ether per token, or around $380. Now it has reached 20.7 ether or the equivalent of $61,000. The most expensive coin sold for 296.69 ether, or over $1.1 million.
After the success of Doodles, the creators launched a second collection called Space Doodles . Unlike other secondary collections such as the Mutant Ape Yacht Club, Space Doodles is said to be "non-dilutive". This means that it uses a Blockchain technology called "wrapping" and allowing the appearance of an NFT to be changed without the need to create a new one.
Holders can place their Doodle in a spaceship , but the original NFT is then "docked" in a chest. It is still possible to take it out of the spaceship to return it to its original shape and put it back in your wallet.
The goal is to experiment with how changing the appearance of an existing NFT can impact overall rarity through the creation of a secondary collection. This approach could become a new trend in the NFT market…
VeeFriends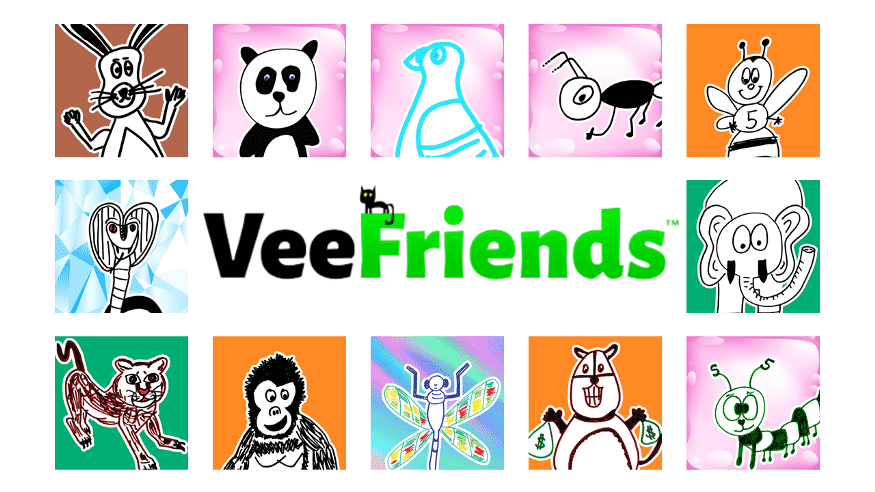 Launched in May 2021, VeeFriends is Gary Vaynerchuk's first NFT collection . Better known as Gary V. Vaynerchuk, this character runs the VaynerX business and co-founded Resy. Very involved in the world of NFT, he is one of the main influencers of the industry .
The VeeFriends collection was launched for a starting price of 2.5 ether per unit, equivalent to $7500. The current floor price is 9 ether, or around $26,000 . The most expensive coin sold for 130 ether, equivalent to $492,000.
This collection is based on the popularity of Vaynerchuk. Each token is designed by him, and offers three years of access to VeeCon: an annual conference dedicated to Web3 .
Many of these NFTs also bring benefits such as gifts from Vaynerchuk and his team, or the opportunity to meet him .
In April 2022, the VeeFriends Season 2 collection was launched. It features 50,000 NFTs, compared to only 10,000 in the original project.
Clone X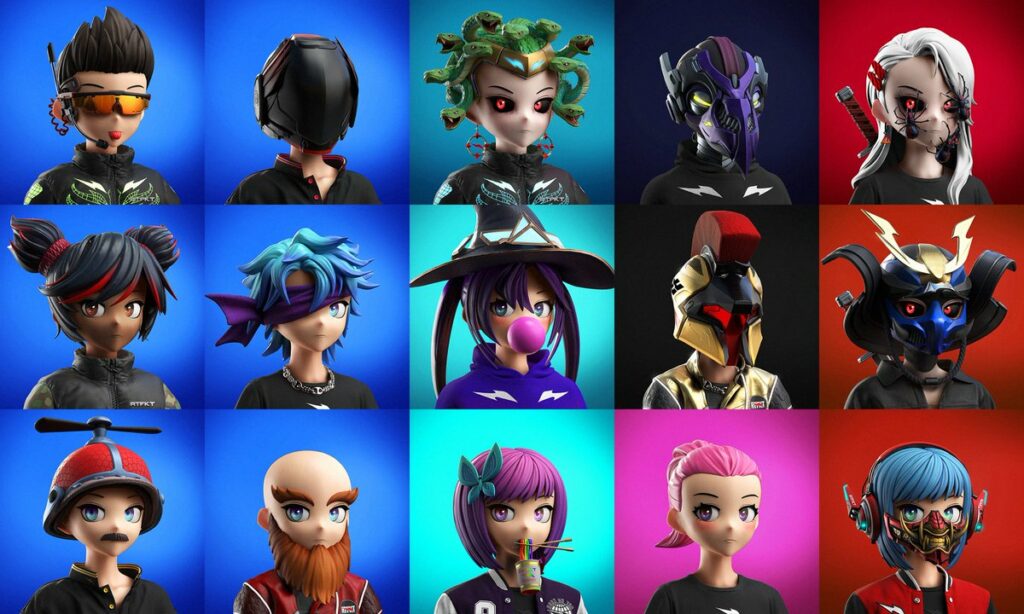 With 2.5 million followers on Instagram, it goes without saying that Japanese artist Takashi Murakami is influential. Unsurprisingly, his NFT CloneX collection is selling very well.
Launching in November 2021, this collection is the most popular in manga style behind Azuki. It is also the most popular 3D NFT collection to date.
The launch price was set at 2 ether, or around $6100 . Currently, the floor price reaches 18 ether or the equivalent of 53,000 dollars. The centerpiece sold for 450 ether, or $1.25 million.
The CloneX collection includes 20,000 tokens, and is themed around fashion and diversity . Characters have a wide variety of skin colors, haircuts, and other aesthetic traits.
This is a project developed by RTFKT : a company specializing in the design of virtual sneakers. However, this company was acquired by Nike in December 2021 with the aim of making a place for itself in the metaverse.
NFT CloneX holders have already benefited from this prestigious acquisition, as they received mystery airdrop boxes in early 2022. These boxes contained virtual Nike sneakers, some of which sold for five-figure sums. The CloneX project is therefore well on its way to becoming a long-term project…
Cool Cats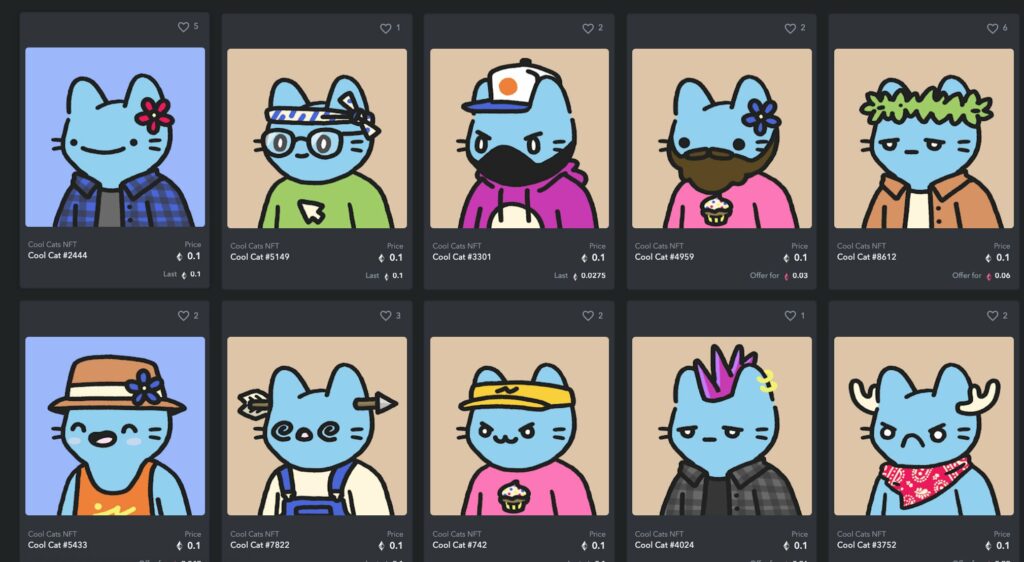 NFTs are often talked about as an easier way for artists to make a name for themselves and earn a living. The Cool Cats collection and its creator Clon is the perfect example.
For more than 10 years, Clon drew his character "Blue Cat" under the pseudonym The Catoonist. Unfortunately, he never found success.
On the contrary, his collection of NFT Cool Cats soared very quickly after its launch in July 2021. While the starting price was 0.06 ether per token, or approximately $189, it is now 4.7 ether. that's about $14,000. The most expensive token sold for 320 ether or around $1.1 million.
In total, over $312 million was spent on this Blue Cat-inspired collection. A fifth of the profits are donated to initiatives launched by the community. A secondary collection titled Cool Pets was launched.
Moonbirds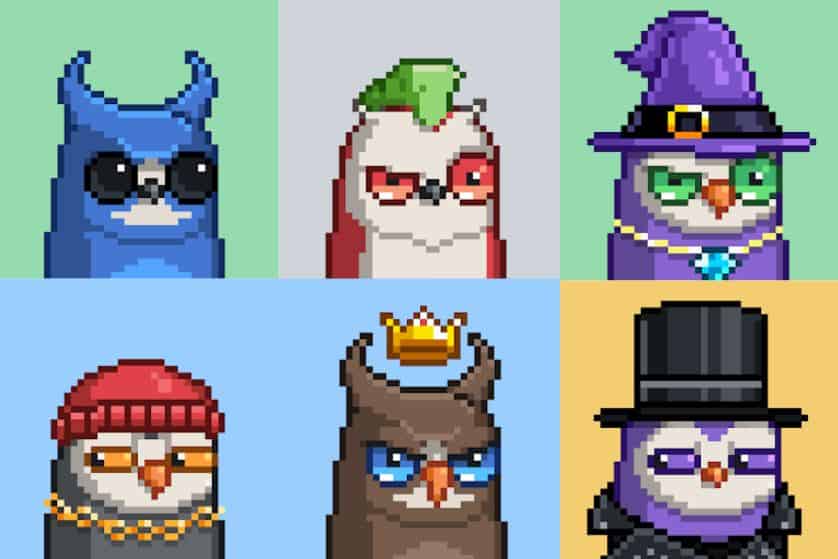 Launched in April 2022, Moonbirds is the new kid on this list of the best NFT projects. Despite a high starting price of $10,000, this collection quickly found success.
For good reason, Moonbirds is produced by the Proof Collective: a very influential trio including Kevin Rose, the founder of Digg. Buyers therefore not only invest in a pixelated owl image to use as a profile picture, but also become part of a community.
Notably, they get access to Proof Collective's Discord , frequented by some of the most influential players in the crypto and NFT market. Only holders of one of the collective's 1000 NFTs can access this Discord channel. However, the price of an NFT Proof Collective currently exceeds 300,000 dollars.
Some Moonbirds holders can be granted access to Discord, and this collection therefore presents itself as the cheapest gateway to this extremely selective virtual space.
Currently, the floor price is at 29.5 ether or the equivalent of $86,000. The most expensive coin sold for 350 ether or the equivalent of $1.02 million .